What is the Sprint Clinic retrospective?
Suffering from poor workflows? Lost in overcrowded documentation or inconsistent coding practices? Perhaps, your team is lacking commitment and follow through.
A Sprint Clinic retrospective helps your team effectively uncover any issues and pains that people are having. By taking a more objective approach to problem solving, the team can look at ways to diagnose, treat, follow up and prevent the problem in the future.
This is similar to root cause analysis. It adds to this by considering potential treatments as well as follow up activities to track improvements.
This can be an effective agile retrospective technique to help build a team's confidence in being able to be self-leading and self-sustaining.
The Sprint Clinic retrospective format
Symptoms
What pains did you have in the last sprint? What issues or blockers did you experience?
Diagnosis
What could be the root causes? When did it start and what happened before?
Treatment
How can we treat or manage this? What would reduce the pain?
Follow Up
How can we track progress and improvement? What should we measure?
Prevention
What can we do to stay well? How do we prevent this from happening again?
Suggested icebreaker questions for the Sprint Clinic retrospective
What is your personal health hack that you would share with the team?
Which of your five senses would you most hate to lose?
Einstein slept for 4 hours a day. Fact or Fiction?
What do you do that is proactive or preventative in nature?
Retro warm up
How functional is your team? Try running a Team Dysfunction Health Check inspired by Patrick Lencioni and discuss the results.
Ideas and tips for the Sprint Clinic retrospective
While the team may come up with lots of different symptoms, there are often many root causes. So encourage the team to come up with a diagnosis based on all the symptoms as a whole.
Make brainstorming anonymous to allow people to feel safe when contributing their thoughts. People will feel more engaged when they feel like they can air what they need to.
Encourage people to openly share their pain. Make it known that it is okay at the start of the retrospective and thank each person for sharing.
Whether you are running this activity remotely or face to face, it can be intimidating for people to share. Remind people of Chatham House rules, pointing to certain aspects of the team's agreement.
Set the stage. Welcome people to set the tone of the meeting and give them a safe space to share ideas. A great way to do this is to ask "Can we begin now?" and wait for people to begin.
As the old saying goes, prevention is better than cure. Dedicate enough time in your meetings to preventing further issues.
Seek clarity as needed. If the ideas are too general, they won't be useful. Deep dive as needed to better understand what the problem might be.
How to run the Sprint Clinic retrospective in TeamRetro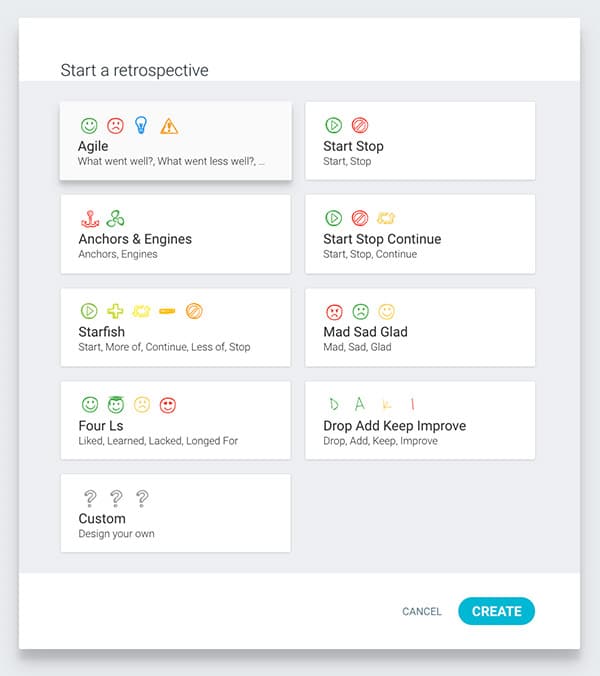 Start your retrospective in a click
Log into TeamRetro and choose your sprint retrospective template.
Invite your team easily – no separate accounts needed
Send an email invite, a link or add to your Slack channel to get people started quickly. SSO options are also available.
Time to brainstorm
Each team member can now brainstorm individually under each topic. This avoids group think and allows everyone to have their say. They can indicate when they have finished, or you can set a timer so that you know when to move onto the next stage.
Group related ideas
Drag and drop  related ideas to combine them for easier voting. TeamRetro can also automatically suggest ideas that are similar, saving you and your team valuable time.
Vote independently to avoid anchoring
Each team member votes on what they would most like to discuss further. The results won't be displayed to everyone until you advance to Discuss.
Discuss the most important things first
You and your team discuss the top voted ideas and can capture deep dive comments.  Presentation mode allows you to walk your team through ideas one-by-one and keep the conversation focused.
Review and create actions
Easily facilitate discussion by bringing everyone onto the same page. Create action items, assign owners and due dates that will carry through for review at the next retrospective.
Share the results
Once you have finished your retro, you can share the results and actions with the team. Your retro will be stored so you can revisit them as needed.
Congratulations! You've just run a retro like a boss.
Want more? Read on.