TeamRetro Roll-out Checklist
Ready to set your organization up to run Agile Retrospectives and Team Health Checks effectively and easily? 
Here's a list to help you prepare the necessary steps to roll out TeamRetro to your teams.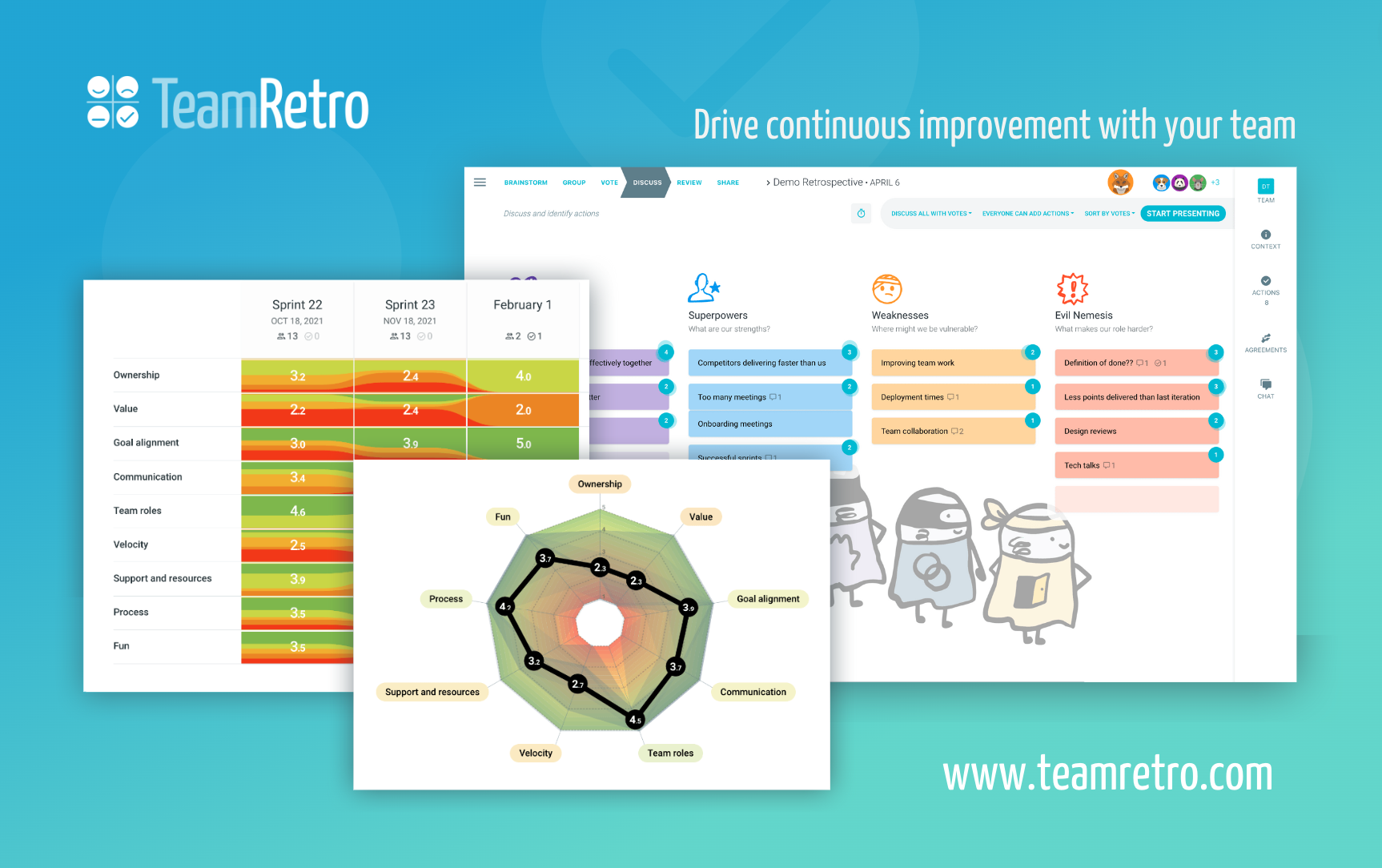 Getting Started
Identify the plan that makes sense for you
Self-subscription online
Designed for month to month as well as annual subscriptions for single, small teams ( 3 teams) and large organizations ( 6 teams and above). Credit card and 3DS supported. If you require an invoice for procurement purposes, please get in touch. See our plans here.
Enterprise Agreement
Annual contracts for all enterprise licensing plans. Features reporting and analytics, Team of Teams, health check radars. This also includes SOC reports, service level agreements and choice of hosting. If you have specific requirements to ensure TeamRetro meets your needs, this can be discussed and included in our enterprise contracts. Agreements must be signed by authorized representatives from both parties.
Security Review and GDPR Compliance
Just like you, we take security seriously.
You can read more at our Security Overview and our Security Questionnaire as part of the Cloud Security Alliance.
We are also GDPR compliant if you require a Data Processing Agreement (DPA).
If you are an enterprise or large organization and require a SOC2 report or completion of a security questionnaire, please get in touch.
Choose Hosting (US/EU)
TeamRetro can be hosted on AWS in the US (Northern Virginia) or EU (Frankfurt).  Enterprise customers can select this as part of their annual contract. For self-subscribed plans, the default is in the US. Please note that depending on the type of plan you have, there may be additional hosting/transfer costs.
Preparation
Technical considerations
You have the option to configure your TeamRetro Account as follows:
Single Sign On – for user authentication via your own identity provider such as Google, Azure AD, OKTA or OneLogin.
Integrate with your task management and communication tools like Microsoft Teams, Jira Cloud, Jira Server, Asana, Trello, Github and more. See our integrations here.
Domain Capture – claim your companies email domain (eg. @acme.org) so your users will be automatically linked to your company TeamRetro account.
Allowed Email Domains – improve security by limiting the email domains users can use to access your TeamRetro account.
Business considerations
You may wish to set up TeamRetro based on the needs of your organization as follows:
Set up Permissions and Roles for your users to manage what access you want to provide each user. (Optional)
Create different segments such as geography or function for teams using Team Tagging. (Optional)
Set up default templates for retrospectives and health checks, including organization wide templates.(Optional)
Roll out
Existing retrospectives and health checks
From your trial accounts – your existing set up, meetings and data will automatically roll over to your active plan when you subscribe.
From another tool – Want to import your past data from other tools (Retrium, EasyRetro, Parabol, etc) into TeamRetro? We can help you migrate your data onto a better platform as part of your onboarding.
Timing of roll out
Please allow for 1-2 working days for activation of your account after payment. For online subscription, activation is immediate upon payment with your credit card.
Integrations – Set up meetings quickly and publish actions items
TeamRetro lets your teams integrate with a range of current collaboration and workflow applications. See which apps TeamRetro integrates with.
Internal onboarding
TeamRetro is built for intuitive flow and easy use. But we would also love to help make onboarding easier for you and your team by sharing what we already know about using TeamRetro for your agile retrospectives and health checks. As part of your onboarding, we can schedule an onboarding introduction to TeamRetro, or just share our intro deck for your own internal communications. Of course, if you need any other help along the way, we are here for you.
Ongoing Support
Ongoing support
We are available on email support 24×7 from inside the app or via info@teamretro.com. We will usually respond within 1 business day. We respond to all urgent system concerns as soon as possible and in line with our service level agreements. Enterprise customers can also book scheduled support meetings as needed.
Internal champions and advocates
Need some personalized support to manage a large number of teams and users? We can help make sure you are supported as a TeamRetro super user in your organization. Let's talk.
Feature requests
We're continuously improving TeamRetro. You can request or suggest a feature that we can take into our product roadmap.
Other FAQ
What happens with my data after the trial period?
All your data will remain accessible (read-only) after your trial period for up to 30 days. After which the data will be deleted for data protection reasons.
Can I have multiple trial accounts?
No, we do not support multiple trial accounts for a single user/organization. We may be able to extend your trial account. Please contact us.
What payment and currencies does TeamRetro support?
We accept bank transfers and credit card payments (Visa, Mastercard, Amex) in USD, AUD, GBP, EUR, CAD and SGD. We can provide quotes and invoices as needed. Self-subscription payments will have a receipt/tax invoice automatically generated at the time of subscribing.
Can I book or schedule a meeting?
Yes, you sure can. Book a time here.
Is TeamRetro SOC 2 certified, GDPR compliant, PCI compliant?
Yes we sure are. You can request these at security@teamretro.com.
How do I ask more questions?
Simply contact us. We'll be happy to help.