Team radars and health checks
Build high performing agile teams with insight into everyone's performance and morale. Visual results and guided facilitation techniques leads to meaningful discussions that create change.

Team Radars and Health Checks capture and track key dimensions giving valuable insight from the team at the front line. Team members feel heard, valued and able to see where problems might exist. Continuous improvement is just the start.
Our team radar and health check templates
Out of the box, TeamRetro supports a range of common models. Need something else? Create your own that fits your team's persona. Have teams respond along a numerical or emoticon scale and see the results instantly and visually.
Explore our other professionally designed Health Check templates.
Survey
Capture feedback privately
Device friendly and no downloads means everyone can easily and quickly share what they think. Time-box each step to keep to schedule. Get prompted when everyone is done.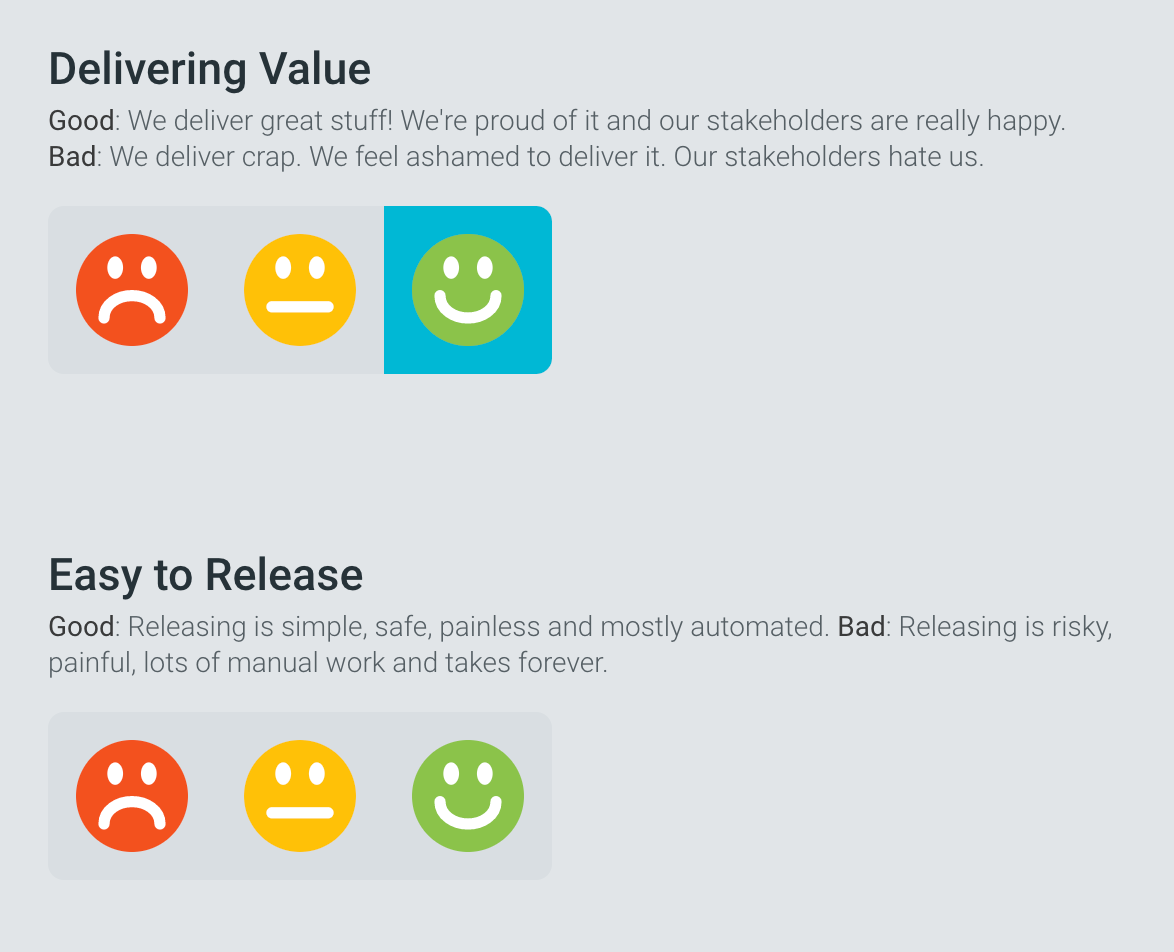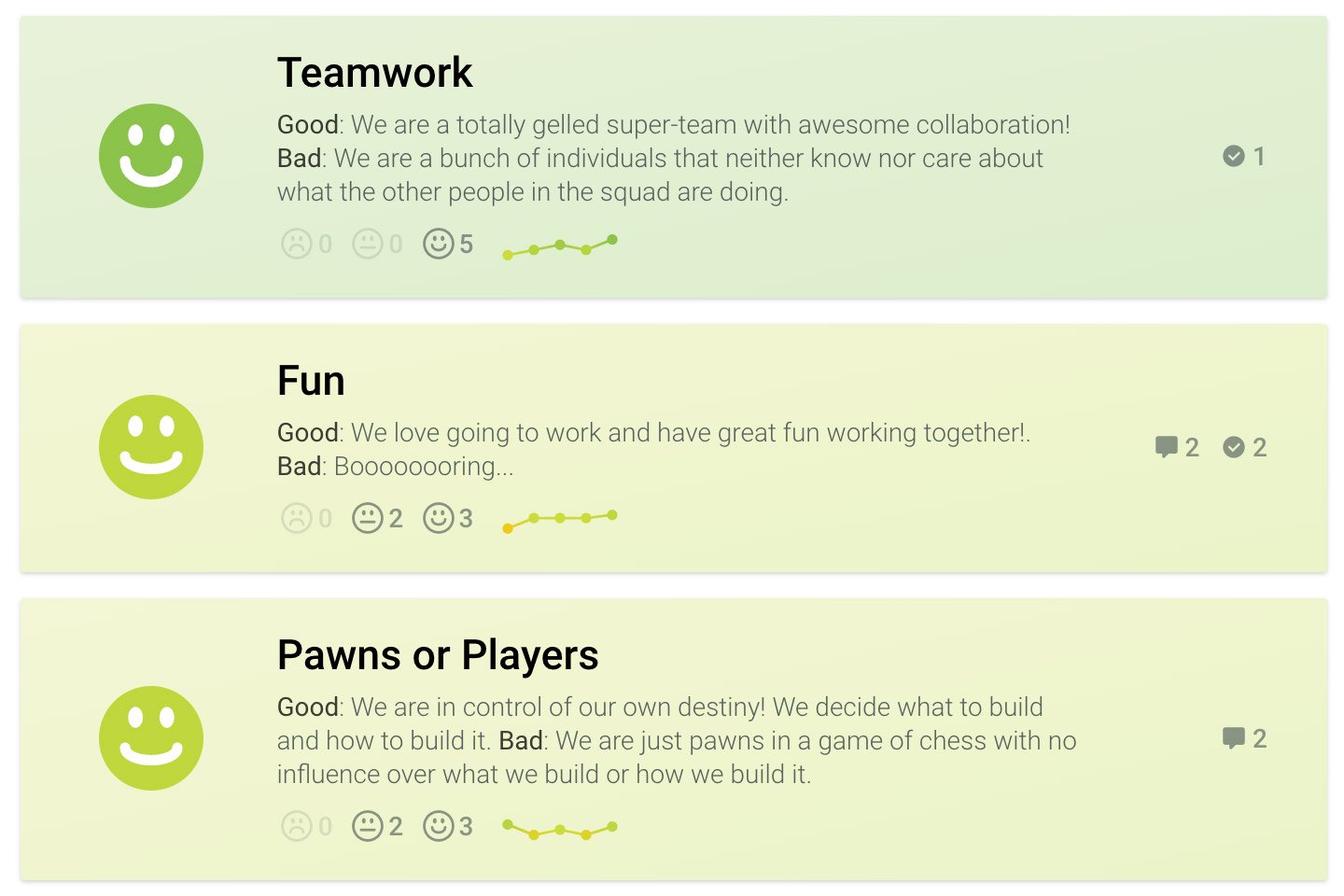 Discuss
Data driven discussions
Realtime, visual results show you the overall picture and trajectory over time. Sort to discuss the most positive, negative or mixed response first.

Present, discuss and create actions
Use presentation mode to sync screens to facilitate discussions and create actions that drive change.
Review
Review your action plan
Assign due dates and owners and check things off. Items are tracked from meeting to meeting with gentle reminders when things are due.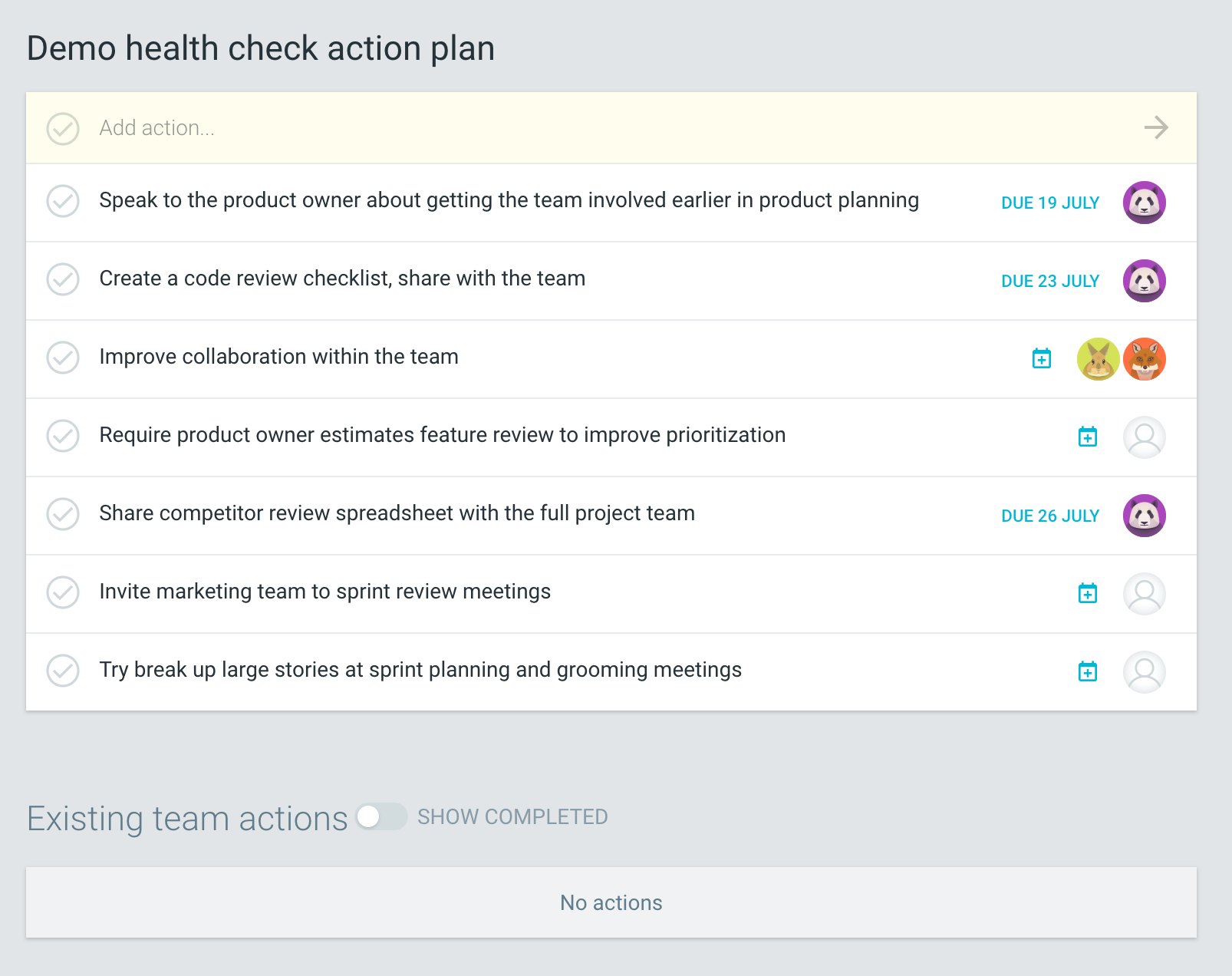 Enterprise cross-team reporting
Define your own organization-wide health model and view a team health roll-up across your organization, to quickly identify opportunities for improvement and track trends (Enterprise Feature)

Say goodbye to time-wasting, boring and ineffective retrospectives

TeamRetro gives scrum-masters, agile coaches and teams a safe space to ideate, gather inspiration and foster a collaborative spirit. Our retrospective exercises and plays can be tailored to meet the dynamics, culture and persona of your team. Real time interactive design keeps your team engaged and participating throughout the whole retrospective.
Effortless onboarding
Quickly invite your team by email, Slack, or share a link.
Fully customizable
Use one of our ready-to-go templates, or design your own radar or health check.
Track progress over time
Your dashboard shows the team the changes to measure the impact of changes made.
Single Sign On
Sign in with your organization's identity provider.