What is the Rate of Improvement retrospective?
Rate of Improvement (ROI) is how a team measures its speed and ability to change. It reflects on the value of their time and effort when they develop, improve or upgrade a product. The focus here is on improvement, not investment. That is, how fast and well people got better at what they were doing.
Each person thinks of areas of work which they believe had the highest and lowest rate of improvement. They can suggest ways where this can be improved going forward. This can be at the team or personal level.
This is great for helping teams address issues which may be blocking continuous improvement. This could be a process that needs to be simplified, systems to be automated, test environments to be improved, or simply providing the team with the tools and resources. If it is more a personal mind set, then an agile coach can help support the individual's goal.
Rate of Improvement retrospective format
Highest ROI
In which areas did we have the highest ROI? Where did we improve the fastest? What obvious improvements were quickly delivered?
For example: Improving team meetings through better processes and protocols.
Lowest ROI
In which areas did we have the lowest ROI? What slowly improved? What didn't improve at all?
For example: Lack of deployment speed due to poor unit testing.
Potential ROI
Where can we improve our ROI? What opportunities can we consider? What 'low hanging fruit' could we pick?
For example: Improving feedback loops to reduce rework.
Suggested icebreaker questions for the Rate of Improvement retrospective
How do you improve your energy and focus?
What small thing would improve your day today?
When do you find it easy to learn?
Retro rehearsal
Apply the Rate of Improvement retrospective to this home improvement attempt. Where might they have had high or low rates of improvement if they were trying to sell their house?
Ideas and tips for your Rate of Improvement retrospective
Why not try an agile game before your retro? They are a great way of warming up and learning about agile.
Don't try to solve the problems on the spot. It is not always possible and some problems may not actually be fix-able. The goal is simply to work through the issues and then look for solutions afterwards to report back at the next meeting.
Rotate the Scrum Master. This will change the voices that are heard and give people a chance to contribute to the retrospective in a different way.
Use a Return on Time Invested (ROTI) tool to see how you can improve your own retrospective next time.
Review your team agreements as you come up with ideas for improvement. Some of the ideas may be to improve the way you work together, not just a new task.
Rate of Improvement is different to Return on Investment. It might be worth asking people what they think each one is so that you are all on the same page.
How to run a Rate of Improvement retrospective in TeamRetro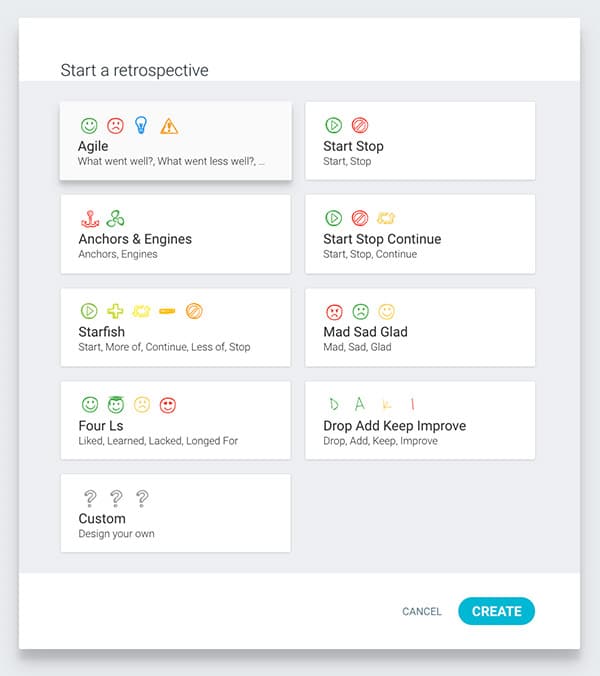 Start your retrospective in a click
Log into TeamRetro and choose your sprint retrospective template.
Invite your team easily – no separate accounts needed
Send an email invite, a link or add to your Slack channel to get people started quickly. SSO options are also available.
Time to brainstorm
Each team member can now brainstorm individually under each topic. This avoids group think and allows everyone to have their say. They can indicate when they have finished, or you can set a timer so that you know when to move onto the next stage.
Group related ideas
Drag and drop  related ideas to combine them for easier voting. TeamRetro can also automatically suggest ideas that are similar, saving you and your team valuable time.
Vote independently to avoid anchoring
Each team member votes on what they would most like to discuss further. The results won't be displayed to everyone until you advance to Discuss.
Discuss the most important things first
You and your team discuss the top voted ideas and can capture deep dive comments.  Presentation mode allows you to walk your team through ideas one-by-one and keep the conversation focused.
Review and create actions
Easily facilitate discussion by bringing everyone onto the same page. Create action items, assign owners and due dates that will carry through for review at the next retrospective.
Share the results
Once you have finished your retro, you can share the results and actions with the team. Your retro will be stored so you can revisit them as needed.
Congratulations! You've just run a retro like a boss.
Want more? Read on.