Thanks to our supportive TeamRetro users and Customer Advisory Group who recently requested for "Integration to publish to MS Teams," we've been able to make this newest integration possible.
Let's take a look at how this new integration with Microsoft means and how you can access it for your retrospectives.
What is the MS Teams Integration?
We have deployed our Microsoft Teams integration, which means you can now invite your team and publish action items to your MS Teams Channels. 
Why do we need this new MS Teams Integration? 
Integrating TeamRetro with your existing workflow and communications means that you can easily use TeamRetro with other popular engagement and task platforms. 
Being able to move from one platform to another seamlessly or import data and reports together helps to improve productivity and quality of your operations and, in this case, retrospectives. 
In addition to this new integration with MS Teams, TeamRetro also works with these other existing task management tools so nothing falls off the radar: 


When is a good time to use this integration feature?
With remote working and distributed teams on the rise, we see many more teams meeting virtually, and using Microsoft Teams to facilitate conversations, brainstorming and of course, retrospectives. We've made this integration a priority to meet this trend and to support teams all over the world do their retros. 
Who can access this MS Team Integration? 
Whoever is your TeamRetro facilitator, they will be able to create the TeamRetro activity and get the invite code/link to post in MS Teams chat. Everyone else in the team can then access the TeamRetro activity through and in the chat. 
How does the MS Team Integration work?
To access this new integration with MS Team, simply follow these steps:
Create your TeamRetro

space or activity

and then on the invite team screen click on code/link. 

Copy the URL for your TeamRetro activity and then post the invite in Microsoft Teams.

Once your team members click on the link they will be able to view the TeamRetro activity you have created.

You can also then post your team action items into your MS Teams channel so that you can keep on top of your retrospective or

health check action items.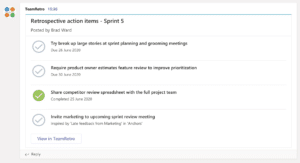 Thank you again to your active TeamRetro users and Customer Advisory Group for suggesting this new integration. We hope this new feature will help all teams run retros successfully in an online or distributed environment. 
Try TeamRetro today!
Want to try TeamRetro for your next team retrospectives? 
View a demo with our fun bots to check all the features of TeamRetro. Or  Try it FREE for 30 days today.