What is the Scrum Values retrospective?
The Scrum framework encompasses the key values of Scrum which helps guide the way the team thinks and works together. This retro format is a deep dive into the behaviours and actions each person takes in their daily life and work practices that reflect these values.
The Scrum values are:
Courage – This is arguably the bedrock of a scrum or agile team. The ability to accept, undertake or effect change takes courage. The ability to experiment and try new things takes courage. Being able to learn and share from failures takes courage.
Focus – In Scrum, an interactive-incremental approach and timely delivery helps the team stay focussed on the project goal. This avoids wastage, delays, production blocks or escaping time lines if the team understands what it takes for them to increase their focus. Managing distractions may be one aspect, but then again, they may need additional input from people or clarification of goals.
Openness – Living Scrum requires transparency and openness. This allows the team to make sensible adjustments through being able to give and handle constructive feedback. Doing so requires psychological safety, an explicit open culture and calling out things that might make people feel undervalued or judged when giving their opinion or ideas.
Respect – Working as part of a team means being able to show respect to your colleagues, their decisions, their experience and their opinions. It includes being able to respect diversity. Of course, your own personal perception and input is just as important.
Commitment – This is about having personal and team accountability to see the commitments through to the end. This value can be expressed in 3 different ways – commitment to the sprint, commitment as a team and commitment as an individual to the sprint goals.
Scrum Values Retrospective Format
In exploring the Scrum Values for a team and how they are lived as a day to day experience, the Scrum Master can pose the following questions for the teams to consider and share.
Courage
How do we tackle tough problems?
Focus
How can we improve focus on our goals?
Openness
How do we stay open to new things?
Respect
How do we show respect to each other?
Commitment
How can we make our commitments a reality?

Suggested Icebreaker questions for Scrum Values retrospectives
With which value do you most identify?
What act of courage or respect have you witnessed?
What helps you focus?
Retro Rehearsal
Invite your team to rehearse the retro referencing the last time they organized a party. then ask them to answer one or more of the following.
What went well at the part?
What went less well?
What would you do at the next party?
What puzzled you from the after-party?
Ideas and tips for your Scrum Values retrospective
Given that this retro requires personal buy-in and action, there are certain messages and ideas that can be communicated to the team around each value.
As this format means that any topic can be raised, anonymous settings are usually more suitable. Making the Scrum values explicit here is important to help set the stage.

Courage

– This requires each team member to support each other, help them take informed risks, and to learn along the way. Helping people admit that nobody is perfect and sharing all possible information to help the team is a great first step.

Focus – Even with complexity and uncertainty, focus is essential to get meaningful work done. Eliminating multi-tasking, managing sprint goal expectations and a prioritized product backlog will help with the focus. Each team can also have a "Done increment" for every sprint.
Openness – Collaboration and sharing of data and ideas will add to openness. A transparent product backlog and even the empirical nature of running retrospectives online with TeamRetro will promote openness in the team. Keeping the sprint retrospective's focus on continuous improvement front of mind in regard to the team's interactions, processes, and tools helps build openness.
Respect – Much of this comes down to how each person could demonstrate respect in their own way, as well as their role.Each development team member respects everyone's experiences, skills and ideas to promote learning and growth. The Product Owners work collaboratively and sets realistic expectations for stakeholders. The Scrum Master focuses on the health of the scrum team and builds their capacity for growth.
Commitment – Success comes from setting and sticking to realistic goals. Each team member commits to not just their individual achievement but also that of their team. The product owner may demonstrate commitment by making decisions in the best interest of the product, not trying to please a single…or indeed every stakeholder. The Scrum Master demonstrates the commitment by upholding the scrum framework, ensuring appropriate time boxes and having the right pressure employed to get work done. The development team commits to creating increments that meet their definition of "done", not something that is almost done.
How to run a Scrum Values retrospective in TeamRetro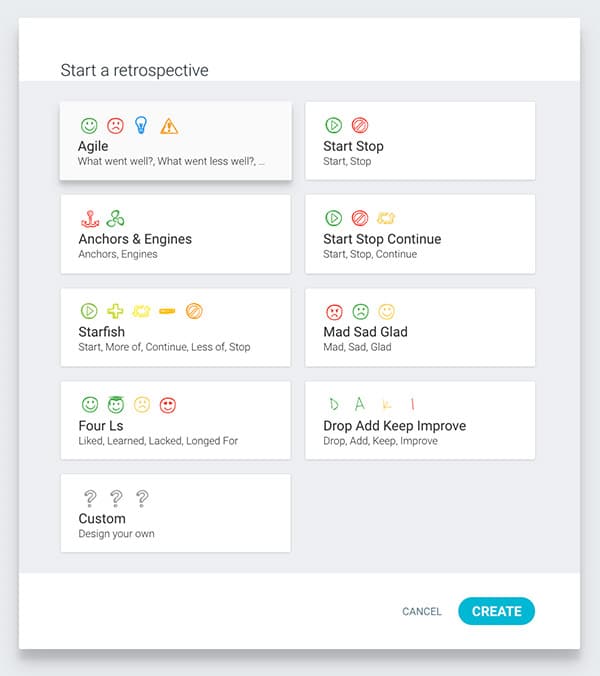 Start your retrospective in a click
Log into TeamRetro and choose your sprint retrospective template.
Invite your team easily – no separate accounts needed
Send an email invite, a link or add to your Slack channel to get people started quickly. SSO options are also available.
Time to brainstorm
Each team member can now brainstorm individually under each topic. This avoids group think and allows everyone to have their say. They can indicate when they have finished, or you can set a timer so that you know when to move onto the next stage.
Group related ideas
Drag and drop  related ideas to combine them for easier voting. TeamRetro can also automatically suggest ideas that are similar, saving you and your team valuable time.
Vote independently to avoid anchoring
Each team member votes on what they would most like to discuss further. The results won't be displayed to everyone until you advance to Discuss.
Discuss the most important things first
You and your team discuss the top voted ideas and can capture deep dive comments.  Presentation mode allows you to walk your team through ideas one-by-one and keep the conversation focused.
Review and create actions
Easily facilitate discussion by bringing everyone onto the same page. Create action items, assign owners and due dates that will carry through for review at the next retrospective.
Share the results
Once you have finished your retro, you can share the results and actions with the team. Your retro will be stored so you can revisit them as needed.
Congratulations! You've just run a retro like a boss.
Want more? Read on.