What is the Roller Coaster Retrospective?
This fun sprint retrospective idea is all about the thrills and spills of a roller coaster ride.
What inspired this new sprint retrospective? Sprints are like rollercoasters. A sprint may have ups, downs, twists and turns, and the most challenging or the most fearful can be the most fun.

Like most of our retrospective ideas, the Roller Coaster is deliberately designed to position participants to connect in with positive, constructive conversations. The "downs" aren't something to dread, in fact, they are hugely helpful as they deliver the momentum to help us ride up to the highest peaks.
If you are looking for a way to remind your team not to fear failure – this is the retrospective for you!
Get onboard – lengthy queues and height restrictions don't apply!
Roller Coaster Retrospective Format
Ups
Participants share their highlights (big and small) of the last sprint. Who stepped up? What worked well? What outputs can be showcased? What unexpected wins were delivered? What made the team happy and joyful?
Downs
Participants share their low points. What wouldn't be done next time? Where did things go off the rails? Were there external factors that didn't help? What cause people to descend?
Loops
Loops are the surprises that the participants encountered in the last sprint. What wasn't expected? What took us around in circles rather than move us ahead? What took us on a journey just to end up on the same spot?
Again, Again!
Participants identify the elements of the previous sprint they wish to apply to the next. What really helped? What enhanced the experience of the sprint? What actions bolstered team morale? What resources made a difference?
Next Ride
This category is a space for participants to capture ideas for the next sprint. What could be tried out? What tweaks could be injected? What could enhance the ride?

What's your favourite carnival ride?
When was the last time you took a risk?
Name something you find thrilling.
Retro Rehearsal
Invite your team to rehearse the retro referencing an aspect of their day.
For example, thinking back to yesterday afternoon, what ups, downs or loops did you encounter; what would you be happy to do again today or what are you keen to change?
Ideas and tips for your Roller Coaster Retrospective
Ask people what their last adventure or favourite carnival ride was? It's a great way to learn a little more about your team and to reminisce on a previous adventure.

Explain the concept of the roller coaster retrospective. Use the concepts of brainwriting – give people "silent time" to write, read and respond to what is being presented. It might just be a minute that can make all the difference.

Use the way teams vote to manage culture. You'll get interesting insights when people vote individually.

When everyone has added the ideas, take a look at the big picture. What is the shape of your roller coaster? Have people reflect on the number and content of the responses. Was the ride just a flat, dull stagger or were there continuous loops that make people's heads hurt and got them nowhere.

Have people add action items against key items that will help improve the future ride. What could they do to improve the overall happiness of the ride or sprint going forward?

Follow up with an action list that you will check off at the start of the next team retro.
How to run a Roller Coaster Retrospective in TeamRetro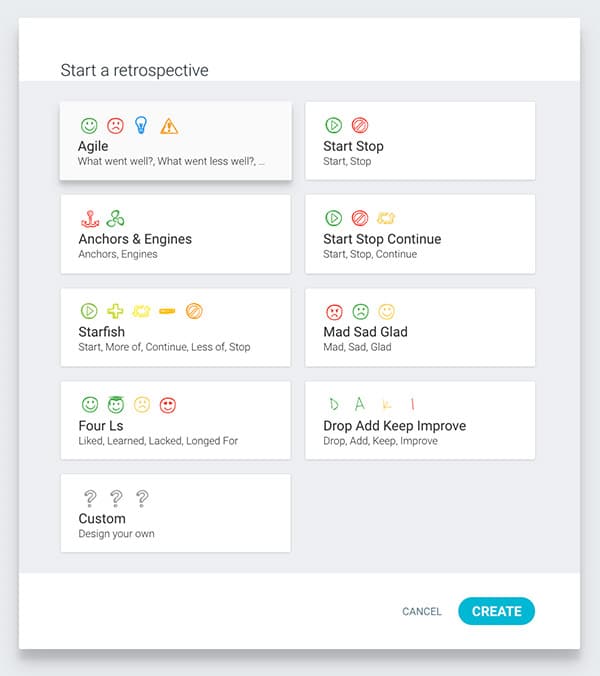 Start your retrospective in a click
Log into TeamRetro and choose your sprint retrospective template.
Invite your team easily – no separate accounts needed
Send an email invite, a link or add to your Slack channel to get people started quickly. SSO options are also available.
Time to brainstorm
Each team member can now brainstorm individually under each topic. This avoids group think and allows everyone to have their say. They can indicate when they have finished, or you can set a timer so that you know when to move onto the next stage.
Group related ideas
Drag and drop  related ideas to combine them for easier voting. TeamRetro can also automatically suggest ideas that are similar, saving you and your team valuable time.
Vote independently to avoid anchoring
Each team member votes on what they would most like to discuss further. The results won't be displayed to everyone until you advance to Discuss.
Discuss the most important things first
You and your team discuss the top voted ideas and can capture deep dive comments.  Presentation mode allows you to walk your team through ideas one-by-one and keep the conversation focused.
Review and create actions
Easily facilitate discussion by bringing everyone onto the same page. Create action items, assign owners and due dates that will carry through for review at the next retrospective.
Share the results
Once you have finished your retro, you can share the results and actions with the team. Your retro will be stored so you can revisit them as needed.
Congratulations! You've just run a retro like a boss.
Want more? Read on.