What is News Magazine retrospective?
Imagine each agile sprint as an issue of a newspaper or magazine. Each one has its own set of stories, headlines, topics, controversies, celebrations and important information to share.
Taking this idea into your retrospective turns your team into publishers and storytellers. It's a simple, creative and engaging way to ask people to reflect on the last sprint as they head into the next. As the team moves from one issue to another, they can improve on the previous version.
News Magazine retrospective format
Headlines
What do we want to tell everyone? What key information would you want to share?
Current Issues
What topics are important and relevant? What is your attention at the moment?
Fake News
What assumptions turned out to be false? What truths did we discover?
Quotes
What would be a quote for the last sprint? How would you describe the last iteration as a quotable quote?
Next Issue
What ideas do we have for the next sprint? What should we cover in the next round?
Suggested icebreaker questions for the News Magazine retrospective
What was something you last read about in the news?
Magazines are simply commercialized comics – do you agree?
What is your favorite quote?
If you could be famous for something, what would it be?
Retro warm up
In a world of fake news, how would you determine and know what to believe? Have teams generate their own news story and headline by making it fake, or real and see if people can work out what the truth is.
Ideas and tips for the News Magazine retrospective
Have people add reactions to their favorite headlines or stories. They can then share why. This is a great way to see where the consensus in the room lies.
Time box each step of the retrospective to keep the process flowing, on track and at the right energy.
Ask the team how they can report back on the next sprint. What other information can they capture that would make this retrospective even better next time.
Rotate the role of facilitator. Changing the role can break the routine so perhaps have each person facilitate a different "category" just like they would rotate presenters.
Make the most of your presentation mode and drill down into ideas at the brainstorming, grouping as well as discussion stages of your retrospective.
Help people bring focus to the room with an icebreaker.
Close the retrospective by asking the team how they would describe their own team as a single-sentence "quote".
How to run a News Magazine retrospective in TeamRetro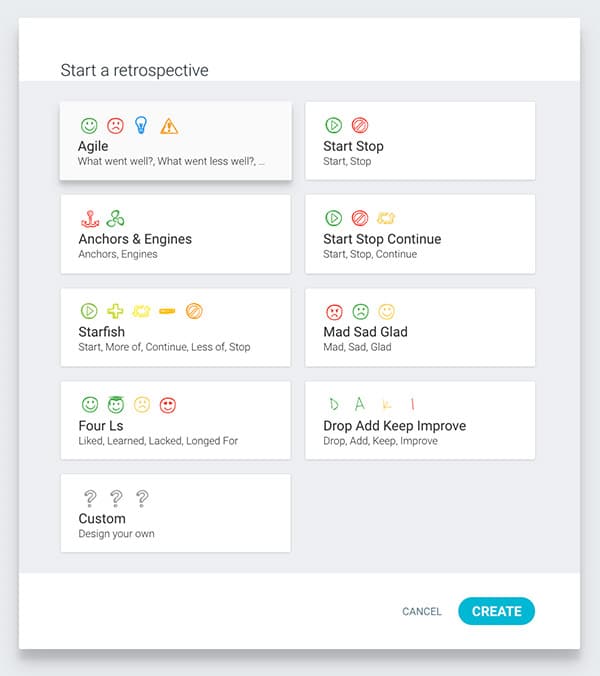 Start your retrospective in a click
Log into TeamRetro and choose your sprint retrospective template.
Invite your team easily – no separate accounts needed
Send an email invite, a link or add to your Slack channel to get people started quickly. SSO options are also available.
Time to brainstorm
Each team member can now brainstorm individually under each topic. This avoids group think and allows everyone to have their say. They can indicate when they have finished, or you can set a timer so that you know when to move onto the next stage.
Group related ideas
Drag and drop  related ideas to combine them for easier voting. TeamRetro can also automatically suggest ideas that are similar, saving you and your team valuable time.
Vote independently to avoid anchoring
Each team member votes on what they would most like to discuss further. The results won't be displayed to everyone until you advance to Discuss.
Discuss the most important things first
You and your team discuss the top voted ideas and can capture deep dive comments.  Presentation mode allows you to walk your team through ideas one-by-one and keep the conversation focused.
Review and create actions
Easily facilitate discussion by bringing everyone onto the same page. Create action items, assign owners and due dates that will carry through for review at the next retrospective.
Share the results
Once you have finished your retro, you can share the results and actions with the team. Your retro will be stored so you can revisit them as needed.
Congratulations! You've just run a retro like a boss.
Want more? Read on.