What is the Aussie Rules (AFL) retrospective?
Our Aussie Rules retro is an interactive sprint retrospective idea inspired by the Australian Football League's (March to September) season.
Based on the football played in English public schools, Australian rules football harks back to the 1850s and was developed with Australia's unique conditions in mind. Originally only played in the state of Victoria, it quickly grew in popularity and now, the AFL Grand final is the most recognised annual sporting event in Australia.
The Aussie Rules retrospective is a great example of a fun sprint retrospective for distributed teams as it shows how templates can be used to acknowledge the interests of your team without sacrificing productivity, focus or purpose.
The Aussie Rules retrospective draws upon key elements of the event to shape a lens through which your team can view their last sprint.
The Aussie Rules retrospective format
Premiership Cup
This is the product or outcome your team is striving to deliver; having a clear and shared view of the final prize helps keen the team motivated and focussed.
Goals 
These are the achievements, key outcomes and "winning" moments that happened during the last sprint, and could be the result of individual effort or that of the team. Perhaps a key target or goal was reached, a surprise victory delivered, or just a moment that deserves a high five.
Tackles
These are the obstacles, roadblocks or matters out of the team's control that have hindered the delivery of value. While these may not be the most positive aspects of the sprint to explore, discussing them helps to identify support, share learnings and shape suggestions that will support the team in the future.
These are the team members who stand out when a difficult or strenuous task needs to be completed. They may have delivered long-term effort that made the last sprint much easier for the team, or they may be a great 'team player'. Who has been performing well throughout your workplace's "season"?
This style of retrospective can be used when your team is having trouble completing a task. Having the ability to see what has been slowing you down and what you have achieved despite this, can be helpful in providing confidence when trying to complete a difficult task.
Suggested Icebreaker Questions for the Aussie Rules retrospective
Which

code

do you consider to be the ultimate version of 'football'?
If your team was losing at half time, what would you say to inspire them to victory?
If your team lost the Grand Final, how would you console your teammates?
Retro Rehearsal
Invite your team to rehearse the retro referencing a good news story.
For example, when they consider this article, what's the Premiership Cup/Goals/Tackles/Who would they nominate for the Brownlow?
Ideas and tips for your Aussie Rules retrospective
Ask each person in the team to think of a team sporting event in which they have competed and or have watched, and what aspects they enjoyed the most.
Use the concepts of brain writing – give people "silent time" to write, read and respond to each topic. You can even open up your retrospective before your meeting to allow people to add ideas and concepts prior to the meeting.
Try to encourage ideas in each section. Even if your team hasn't achieved anything, having an idea regarding what needs to be achieved to complete the overall goal will undoubtedly be useful.
If you have some award medals of your own, you could have teams nominate members for the most resilient, most valuable, most important or most improved player of the team.
A thank you can go a long way in this retrospective format. It can take courage to put new ideas forward or challenge the status quo, so make sure to acknowledge everyone's ideas and contributions.
How to run an Aussie Rules retrospective in TeamRetro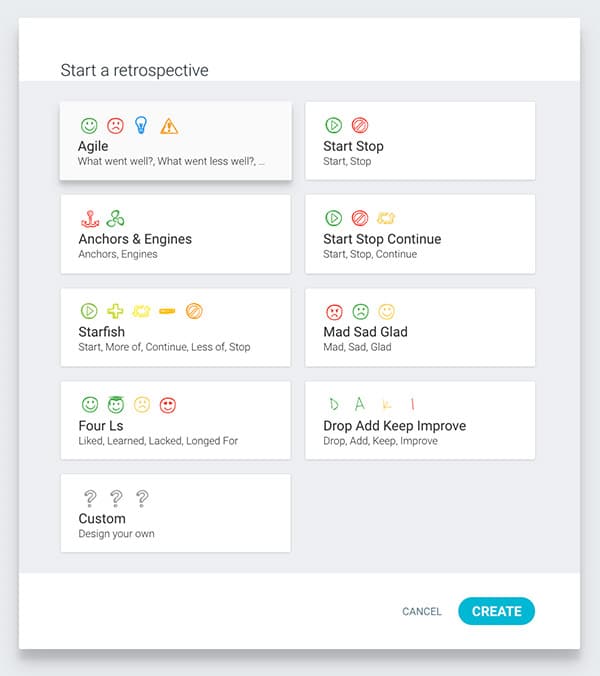 Start your retrospective in a click
Log into TeamRetro and choose your sprint retrospective template.
Invite your team easily – no separate accounts needed
Send an email invite, a link or add to your Slack channel to get people started quickly. SSO options are also available.
Time to brainstorm
Each team member can now brainstorm individually under each topic. This avoids group think and allows everyone to have their say. They can indicate when they have finished, or you can set a timer so that you know when to move onto the next stage.
Group related ideas
Drag and drop  related ideas to combine them for easier voting. TeamRetro can also automatically suggest ideas that are similar, saving you and your team valuable time.
Vote independently to avoid anchoring
Each team member votes on what they would most like to discuss further. The results won't be displayed to everyone until you advance to Discuss.
Discuss the most important things first
You and your team discuss the top voted ideas and can capture deep dive comments.  Presentation mode allows you to walk your team through ideas one-by-one and keep the conversation focused.
Review and create actions
Easily facilitate discussion by bringing everyone onto the same page. Create action items, assign owners and due dates that will carry through for review at the next retrospective.
Share the results
Once you have finished your retro, you can share the results and actions with the team. Your retro will be stored so you can revisit them as needed.
Congratulations! You've just run a retro like a boss.
Want more? Read on.