A team health check is a simple tool that helps you measure and track team health and happiness over time; the data they capture can inform actions that drive continuous improvement.
Team health relates to the factors that contribute to team success.
There's been considerable effort dedicated to defining those factors thereby paving the way to enhancing them.
Google's research, cites five factors that are pivotal to team success.
Spotify's work in this space informed their Squad Health Check. Having evolved over time, the 11 dimensions of their check reflect the factors they perceive as key to team health.
The great thing is, you don't have to launch a research program to measure and nurture your team's health.
Agile team health checks are exceptionally valuable mechanisms for two key reasons –
The information they capture can help inform data-driven actions designed to improve team health.
The effectiveness of those actions can be tracked over time.
TeamRetro offers a number of health check models from which you can choose. Each model has different question sets that can be tailored to suit the needs of your team. TeamRetro also lets you create your own team health check model to help ensure the individual needs of your team are met.
Why is team health important?
A healthy, happy team team can benefit –
Employers
Employees
An employee's family
We know our health is important.
We know our health relates not only to our physical selves and what we can do, but also our emotional selves and how we feel.
We know if we feel good, we can do more.
Well, the same can be said of team health.
The health of the team is a culmination of the quality of their communication, culture and camaraderie which then impacts upon productivity, velocity, and ease of collaboration when it comes to hitting team goals.
Taking some time to understand and measure the health of your team can therefore lead to insights regarding what might be impacting their systems and what drives continuous improvement.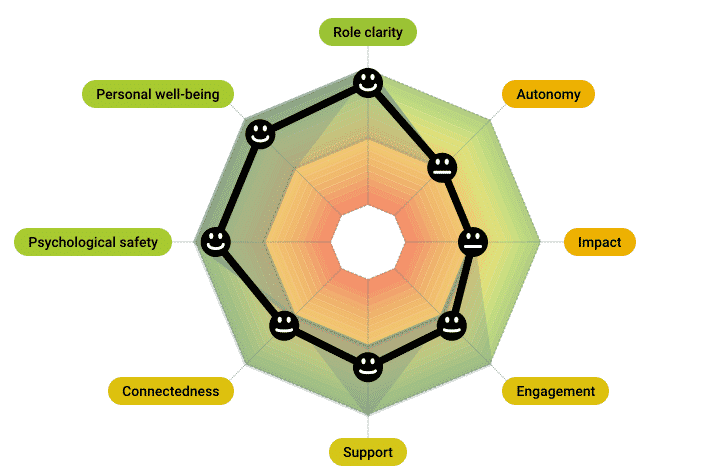 TeamRetro quickly and meaningfully collates health check data to help you identify areas of improvement and strength. This spider chart, for example, offers an easy-to-understand snapshot of responses to a health check, that can be used to support data-driven conversations with your team.
Team health is important to employers
Healthy teams are happy teams. Much has been written regarding the direct link between team happiness and productivity; pointing to the fact that the happier the team, the more productive they are.
The way a team feels can strongly influence what that team can do; this is particularly relevant for the organisation that has employed that team.
The organisational benefits don't stop there!
Healthy teams are resilient
Healthy teams are innovative
Healthy teams contribute to a healthy workplace culture
What, there's more – the great news is organisations aren't the only ones to benefit from healthy teams.
Team Health is important to employees
Members of healthy teams benefit from their positive team traits.
Members of healthy teams are more likely to –
Be supportive of each other
Trust each other
Embrace opportunities to learn
Have an optimistic outlook
Have fun at work
Just like pot plants that thrive in the right conditions, if we are part of a healthy team, we are more likely to thrive.
Additionally, people who demonstrate the above-mentioned characteristics are more likely to attract others with similarly positive traits.
The positive momentum of healthy teams keeps going!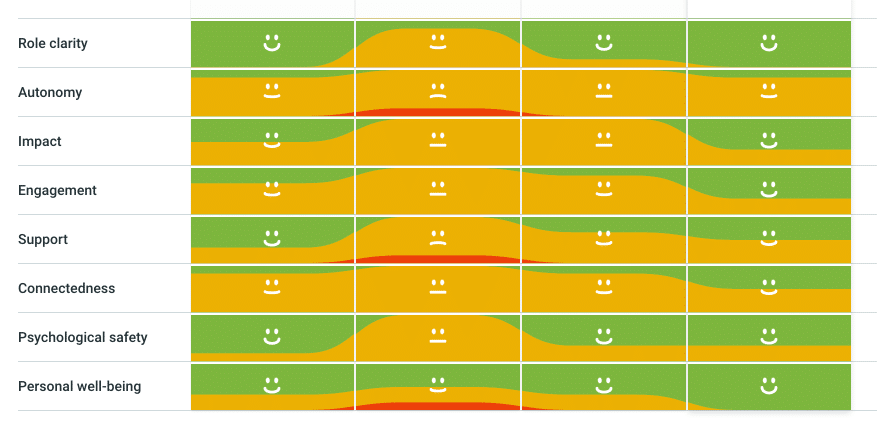 TeamRetro is here to support you as you help your team in their pursuit of continuous improvement. Features such as our heat maps (above) are designed reflect your team's health over time. We focus on tracking your team's health data so you can focus on your team.
Team health is important to the families of employees
The benefits of healthy teams extended beyond the workplace.
The pay check you take home isn't the only thing that can make a difference to your family. The ripples of the experiences that you had at work can also have an impact.
Kansas State University's research found that people who have positive experiences at work, carry that positivity over to their home life.
If you are a member of a healthy happy team, it's likely some of that health and happiness will go home with you!
How can you improve your team's health?
The first step to improving team health is to measure it, and TeamRetro has made it easy for you to do just that.
Decide on your dimensions
It's important to determine what matters most to you and your team (within your context), as this will inform the dimensions you choose to use in your health check. A great way to define these dimensions is to speak with key stakeholders – this includes your team.
TeamRetro offers a range of models with preloaded dimensions to get you started. From Remote Team Happiness, Spotify or Atlassian Models, through to the Scrum Values health check, you can use these models as they are or edit them to suit your team's needs.
TeamRetro lets you apply your dimensions to build your own health check models. You can, in fact, create multiple models and set a default model.
Most importantly, TeamRetro helps you track your team's response to those dimensions over a period of time thereby capturing the evolution of your team's health.
Create a cadence
You could set a health check schedule that could range from daily through to annually but it's important to set some sort of regular cadence that informs how you want people to respond and share.
Keep in mind that faster, shorter health checks will let you see trends and validate team health in a more timely and relevant way.
You can run your health checks synchronously or asynchronously.
If you choose to facilitate asynchronous checks, it's a good rule of thumb to ensure –
That the health dimensions are understood
You have set the tone for how you want people to respond to health checks
What happens with the data is known and understood
Making team health checks a regular occurrence and with the right message, helps build trust and psychological safety, thereby creating a space in which –
Feedback is embraced as constructive rather that perceived as a criticism
Issues are identified and quickly addressed
The positive relationships between team members are reinforced
Conversations are open, honest and supportive
Measure and Manage
The last step is all about connecting your team and transparency is key.
Share the results of that first health check with your team.
Acknowledge and celebrate successes.
Explore any issues the health check may have identified.
Ask your team for their input as to how team health could be improved.
If relevant, use the artefacts of your health checks as the theme for your next retrospective.
Capture actions or team agreements that the team would like to take going forward.
For more help, check out our 5 handy hints for running team health checks.
If you think it's valuable to explore the health and happiness of your teams, test-drive our health checks with our team of friendly bots.
Happy health checking!
TeamRetro