What is Book Club retrospective?
The Book Club retrospective is a fun retro idea to help your team review the story of their last sprint. It helps position your team to offer an overview of their last iteration, identify the challenges they faced and celebrate those who helped overcome them. 
This is a great agile retrospective idea to use following a difficult sprint. The team can choose how they talk about their experiences; be it a thriller, mystery, or even a work of non-fiction. 
Using this format can help diffuse tension and lighten the mood. Unexpected problems and challenges are rephrased as Plot Twists.
The contributions of team members are showcased by celebrating people who helped create stories and resolve issues. Lastly, the team can be in charge of their own story by writing what happens in the next chapter.
Book Club retrospective format
Genre
If the last sprint was a book, what genre was it and why? What story type best describes the sprint?
Plot Twist
What were some of the key turning points in the last sprint? What happened that wasn't expected? What surprise challenges were faced?
Key Characters
Who were the key actors from our team that you want to acknowledge? Who resolved conflicts? Who saved the day?
Next Chapter
What do we want to write in our next chapter? How will we move from where we are to where we want to be?
Which do you prefer, a mystery or an adventure story?
What type of genre best describes your day so far?
What has been the biggest chapter of your life so far?
What is your favourite book you have read?
Retro warm up
Thinking of the story Little Red Riding Hood, ask everyone to state the Genre, Plot Twists and key characters of the story. If they then had to write the next chapter, what would it include?
Ideas and tips for your Book Club retrospective
Establish a mood. Before starting the retrospective, ask everyone what their favorite book is or which book genre they prefer. This will boost their imagination and make it easier for them to match their insights with the actual retrospective.
Make it interactive. Try to involve everyone in the retrospective. Anything that gets everyone involved will help make the retrospective more engaging.
Keep your team agreements in view during your retrospective. Remember you can add to them at any time.
Create a fun atmosphere. Keeping the atmosphere light-hearted will help everyone to stay engaged and motivated. Bring books, music, or whatever else you think might help to lighten the mood.
Set realistic goals. Make sure that everyone is setting realistic and achievable goals for the next period of time. This will help ensure that everyone is on the same page and that progress is made in the right direction.
How to run a Book Club retrospective in TeamRetro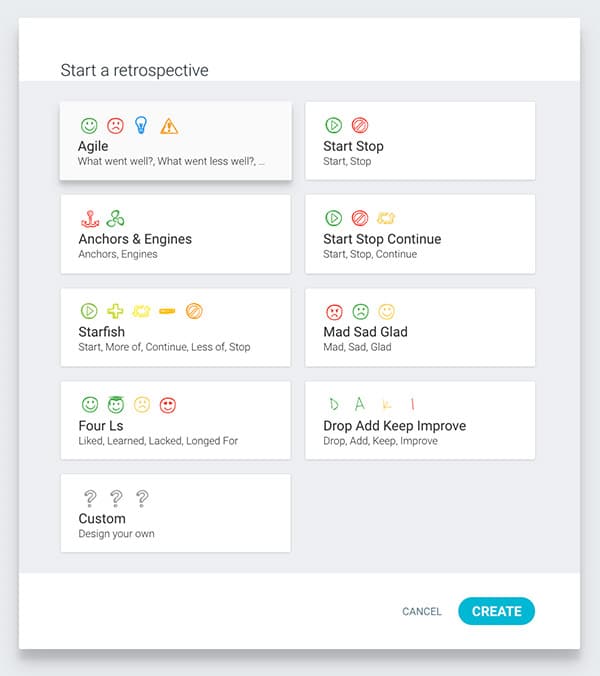 Start your retrospective in a click
Log into TeamRetro and choose your sprint retrospective template.
Invite your team easily – no separate accounts needed
Send an email invite, a link or add to your Slack channel to get people started quickly. SSO options are also available.
Time to brainstorm
Each team member can now brainstorm individually under each topic. This avoids group think and allows everyone to have their say. They can indicate when they have finished, or you can set a timer so that you know when to move onto the next stage.
Group related ideas
Drag and drop  related ideas to combine them for easier voting. TeamRetro can also automatically suggest ideas that are similar, saving you and your team valuable time.
Vote independently to avoid anchoring
Each team member votes on what they would most like to discuss further. The results won't be displayed to everyone until you advance to Discuss.
Discuss the most important things first
You and your team discuss the top voted ideas and can capture deep dive comments.  Presentation mode allows you to walk your team through ideas one-by-one and keep the conversation focused.
Review and create actions
Easily facilitate discussion by bringing everyone onto the same page. Create action items, assign owners and due dates that will carry through for review at the next retrospective.
Share the results
Once you have finished your retro, you can share the results and actions with the team. Your retro will be stored so you can revisit them as needed.
Congratulations! You've just run a retro like a boss.
Want more? Read on.