What is the Scrum Values Health Check?

The Scrum Values Health Check is a specialised self-assessment tool for Scrum teams who are looking for a way to measure and track their value alignment. This tool enables teams to:
Deepen their understanding of the Scrum Values
Reflect as to how they demonstrate those values
Review how they apply those values to their work and team interactions.
Furthermore, a Scrum Values Team Health Check can help inform conversations around both personal and professional development and how living these values can improve day-to-day working relationships.
Like our other health checks, the Scrum Values Health Check allows each participant to share their insights openly and honestly; and can be easily accessed by co-located or distributed teams.
Reflecting upon the Scrum Values

With the Scrum Values (Commitment, Courage, Focus, Openness, and Respect) at its core, this health check is designed to allow participants to quickly and easily plot the degree to which they fell those values are being demonstrated.
Instant, visual results are collated to better facilitate discussions as the health check is performed.
Additionally, an overall view of the alignment to the values is captured that offers an easily understood snapshot. Running the the Scrum Values Health Check regularly will allow changes to be tracked over time so that the team can see progression or identify new areas for improvement.
The Scrum Values and Principles

Scrum is built on a set of fundamental values that drive the code of ethics and the way Scrum teams behave. The Scrum values represent the intrinsic qualities that shape the interactions of a strong performing scrum team. The values of commitment, courage, focus, openness and respect intertwine with the 3 pillars of transparency, inspection and adaptation and the 6 principles of Scrum.
What are the Scrum Values?

According to the Scrum Guide, there are five Scrum values:
Commitment – This is where each team member is committed to achieving the goals of the team or the organization at large, or at the sprint goal level. it's not just about meeting deadlines, but to doing it at a high level, and quality that is aligned with the vision and culture of the team.
Courage – Each team member feels confident or is able to be bold, innovative, challenge the status quo and to tackle tough and challenging problems. They are willing to do the right thing rather than avoid risks.
Focus – With each sprint being time boxed, then the team needs to be able to focus on the goals of each sprint, avoid distractions and prioritise activity to ensure that they focus on what matters the most.
Openness – Honest, open and non judgemental communication is key to a happy and cohesive team. There is a need to be able to talk openly about workload, challenges and what is blocking progress. It also means being personally open to change and to embrace it.
Respect – Given the amount of time teams can spend together, there is a need to respect each other including each other's opinions, experience, views and cultures. Mutual respect can strengthen bonds and help to overcome conflict.
These values culminate in the team being able to embrace an agile mindset and the Scrum Master helps the team embed and live these values to help ensure improved product releases, working with the scrum methodology and helping build team effectiveness.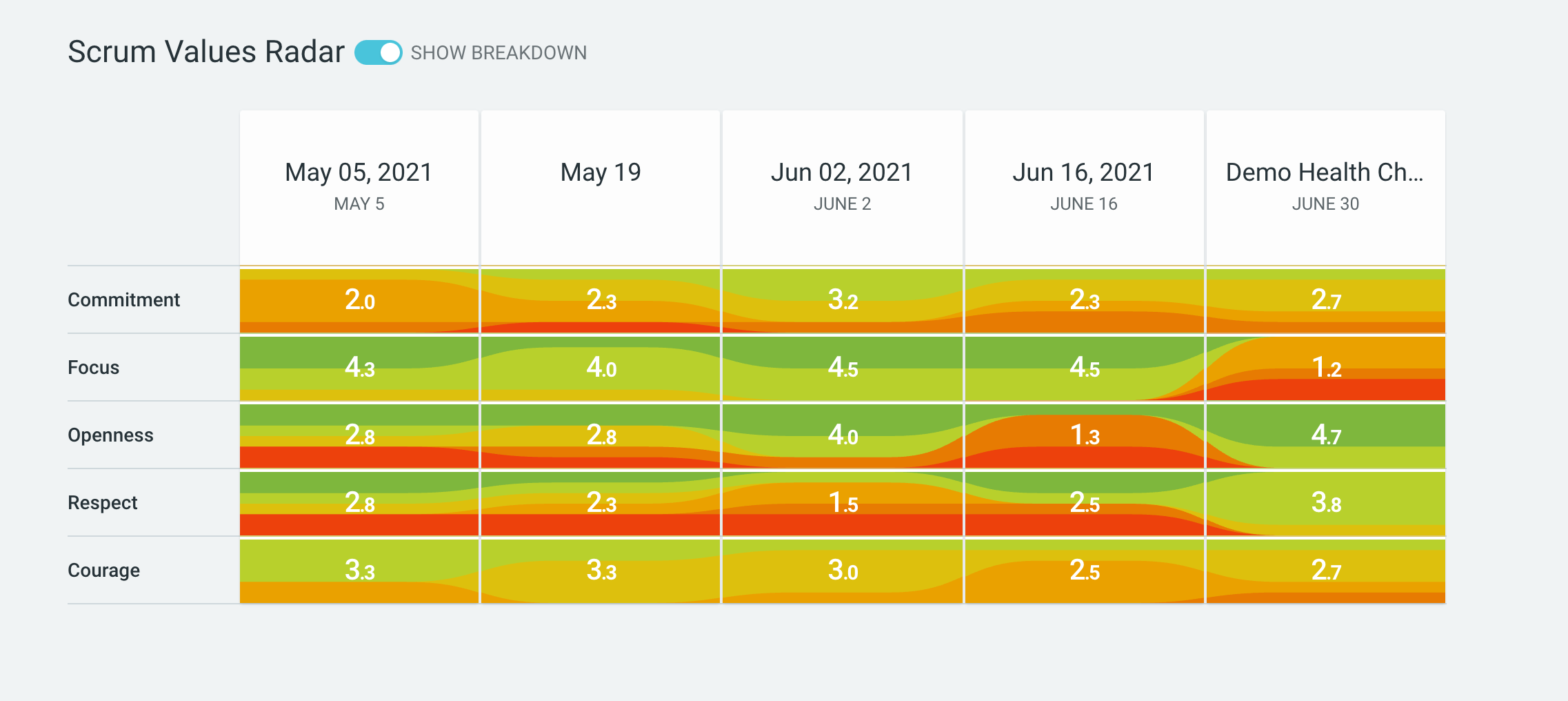 Scrum Values Health Check Dimensions
In this instance, Scrum's five values have been used as the dimensions of this health check.
How to create a Health Check in TeamRetro
Your template is ready to go
Under Health Checks, select the health check you'd like to complete. Decide if you want to survey the team anonymously, using aliases or openly.
Invite your team wherever they are.
Invite by a unique and secure code, email address, share a link, use a QR code or post to your Slack channel. They can use their phone, tablet or PC.
Survey the team independently and efficiently
Ask the team to reflect and rate along each dimension from happy to unhappy. You'll see when everyone has finished. Use the in-built timer to keep things on track.
Reveal and discuss the results

Your health check data is displayed showing the average response and tally of each response. Sort dimensions by most positive, negative or mixed responses to make discussions more meaningful.
Keep conversation on track with Presentation Mode
Switch to presentation mode to sync devices making it easier to facilitate and focus conversations. Capture comments and actions along the way.
Review your action plan
Assign action owners and set due dates for new items and review prior actions. This action list can be tracked, shared or integrated into your other workflow tools.
Share the results
Great work, you are all done! Share the results with your team via email, download and print or publish to tools like Jira, Asana and Trello. Results can be tracked in your dashboard.
Tips for running your Scrum Value Health Check
1. Share and discuss each of the scrum values as a team. It may start with a standard definition, but the team may decide to tweak, adjust or refine this to suit them.
2. You could even ask people to ask for signature behaviours that demonstrate that particular value. What is something that they see, experience, hear or feel as part of the work that would represent those values. This will make it easier to reflect on whether or not they feel it relates to themselves or their team.
3. A common question that people will ask is whether or not they should be rating it based on themselves, or how they feel the team lives the value. They could be quite different. Pick one so that everyone is on the same page and run 2 different health checks if you are curious about the differences between the individual versus the team.
4. The best results come if people are honest, open, and courageous. If you need something to help them get there, set your health check to be anonymous or use aliases.
5. Encourage open and honest conversation, pointing out that these are part of the Scrum Values themselves and employ Chatham house rules, or the 1 person talks at a time or any other social etiquette rules which you think will help your team communicate better.
6. At the end of the health check, ask people to brainstorm either individual or group-based actions that can help improve the ratings for each of the values or things that they would like to see become team agreements. You can capture both actions and team agreements with TeamRetro.
 Matrix vs the Likert Scale Scrum Value Health Check Model

Reflecting on values can be a little abstract, so having a suitable scale to help your team assess them can refine the process. Two of the versions available in TeamRetro include the Likert and the Matrix scale as templates – but you can also customize your own. Whichever method you choose, it gives your team insight into the current situation and opens up discussion of where they feel they should be at any given point in time.
While the Scrum Values stay the same, the Likert scale allows teams to focus on the extent to which they agree or disagree with each on the values along a spectrum.
Strongly Disagree

Disagree

Neither agree nor disagree

Agree

Strongly Agree.  
This is relatively straightforward and allows the team to see where everyone sits along a sliding scale and if there is general consensus. Consensus is based on the agreement of a statement and how it applies to themselves or the team. It implies a single state or outcome which embeds the particular Scrum Value.
The Matrix version on the other hand introduces a stepping scale similar to the notion of Shu Ha Ri where the team can assess their level of maturity and how they would assess themselves only each level of the scale. In this version, rather than agreeing on a single statement, it is about evaluating which level they believe they are performing at. Some of the scales that can be considered when assessing values or continuums of practice include the following:
| Missing | None | Never | Emerging |
| --- | --- | --- | --- |
| Minimal | Ad hoc | Sometimes | Exploring |
| Reactive | Exploratory | Usually | Evolving |
| Proactive | Measured | Mostly | Embedding |
| Optimised | Integrated | Always | Excelling |