Scrum Master's Retrospective Guide
Your Complete ScrumMaster's Guide to Running Fun Easy and Effective Sprint Retrospectives
The Retrospective Prime Directive
What is the Retrospective Prime Directive?
"Regardless of what we discover, we understand and truly believe that everyone did the best job they could, given what they knew at the time, their skills and abilities, the resources available, and the situation at hand."
-Norm Kerth, Project Retrospectives: A Handbook for Team Review
This mindset aims to create a culture and communication style at the retro. Rather than judgment, blame, and shaming, the retrospective prime directive seeks to create a collaborative way of thinking. Each person in the team shows respect, understanding, and curiosity in order to learn and grow together. The Prime Directive forms the basis of the way a retrospective itself should be run.
There are a few key notable points about this prime directive. It assumes that people are genuine and have the best interest of the team and product in mind. It encourages a safer space for people to understand that there is not just one perfect or ideal solution and that experimenting, growth and adaptation is more important. The information that a person has at any one given point has informed them and guided them to a decision and that the way to improve and learn is through collaboration and information sharing.
This ensures that the framing of what happens in the retrospective is not aimed at a particular person or area, but about how the team overall can improve their overall outcomes.
This is just one of the reasons why we have this as the default text in the Context and Agenda of your retrospective meetings. As a new team, it's important to run through this as a starting point – or to tailor it based on your team dynamics.
This helps everyone behave and act in an agreed and productive way at your meeting.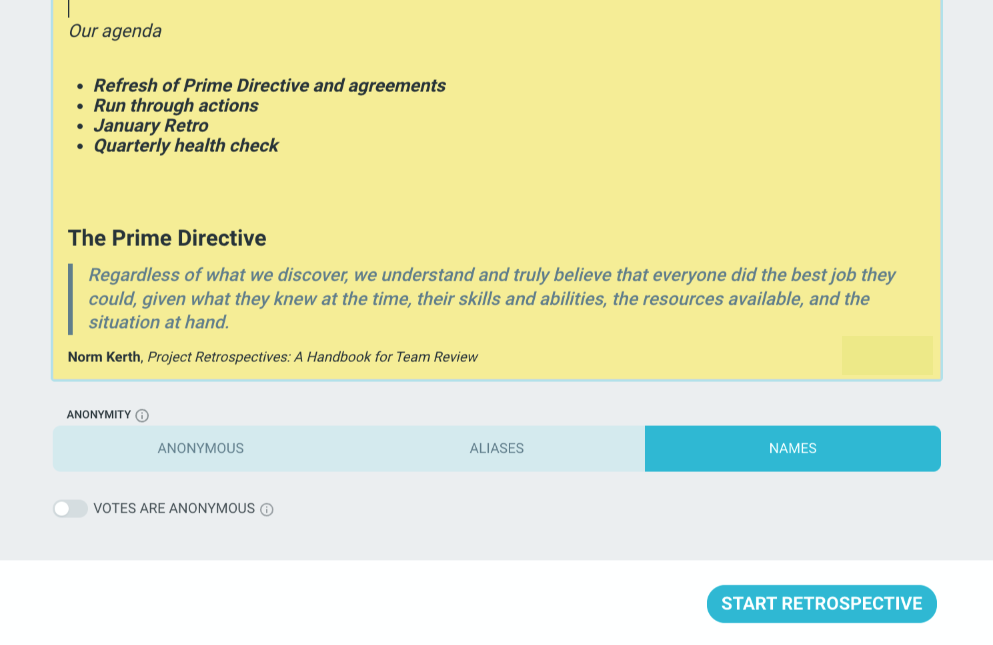 A reminder at the start of the retrospective via the agenda can help set the tone for the rest of the session.