What is Master Baker retrospective?
From the perfect cupcake to the show winning gateau, the output is the right combination of time, effort and ingredients. Just like bakers, Scrum Masters and Iteration Managers, constantly tweak their recipes to improve products and impress their customers.
This gastronomically focussed agile retrospective template is a great tool to help your team reflect on their time management to improve velocity on the burn down chart, improve return on time invested and look at ways to better improve estimations going forward.
Given that our priorities should be a reflection of our actions and time spent, this sprint retrospective template idea gives your team a valuable mechanism to confirm priorities are being kept in clear view and they are not going off half baked.
Master Baker retrospective format
Underbaked
The team considers what they did not spend enough time on. What could have delivered greater value if only more time had been directed to it? What wasn't delivered because there wasn't enough time dedicated to it? These might be areas of sub-optimal performance or where the stories or tasks were under-estimated.
Perfectly baked
Here, the team lists which outputs delivered good value for the amount of time invested. What was delivered on time as predicted? These are deliverables and output where time estimations were on point and were also delivered at the right quality and timeframe.
Overbaked
Finally, the team reflects on where too much time was allocated or spent. Outputs may have been delivered, however they came at a considerable time and opportunity cost. Tasks were over-estimated or took too long to deliver. This represents learning opportunities to improve time estimations or time management.
Suggested Icebreaker questions for The Master Baker retrospective
What would you still eat if it was underbaked?
When have you over-done something?
What have you tasted recently that was absolutely perfectly cooked and how did you feel?
Retro Rehearsal
Invite your team to rehearse the retro referencing the most recent risk they took.
For example, when did you last take a risk – what was underbaked/perfectly baked or half baked?
Icebreaker Activities
Running your agile retrospectives online? Why not have a group bonding activity where everyone cooks their own cupcake recipe for the meeting and shares a treat with those around them. You could even tie it into a good cause like the RSPCA Cupcake day.
Ideas and tips for your Master Baker retrospective
Set the stage. This is the perfect theme for showing off your baked goods. A cupcake for the meeting quickly puts everyone in the right frame of mind.

Running your agile retrospectives online? Why not have a group bonding activity where everyone cooks their own cup cake recipe for the meeting and shares a treat. You could even tie it into a good cause like the RSPCA Cupcake day.

Ask everyone to think about the last sprint and say the top 3 to 5 things that they worked on. They can then move things into the relevant column based on whether or not they think they spent too little, too much, or just enough time on it.

Go through the list and ask people to share their reasons for why they listed something under each heading and capture learnings and insights.

Given that this is a time centric agile retrospective, don't forget to use the timer for each stage and create your own time box recipe for your online retrospective.

In face to face meetings, doing things digitally allows you to collect ideas, vote and comment anonymously, and saves manual collation. If running your meeting digitally, use a video conferencing tool to give that personal touch.

Capture items that will help improve time estimations or time allocations going forward.
How to run a Master Baker retrospective in TeamRetro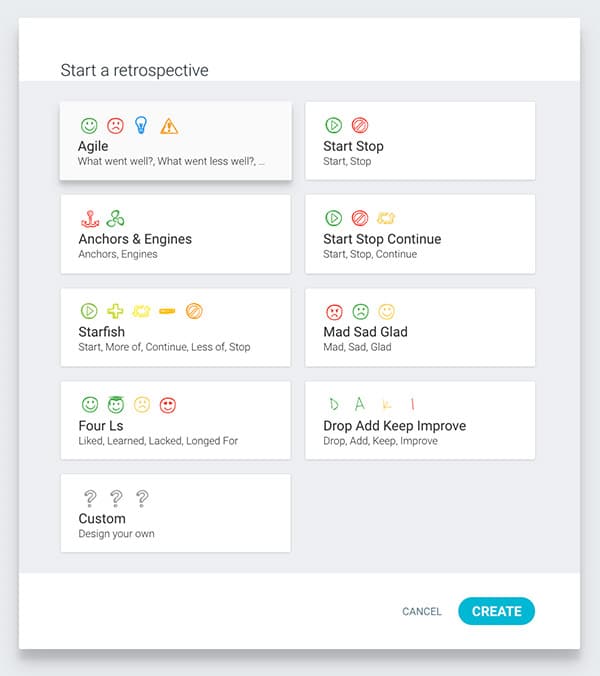 Start your retrospective in a click
Log into TeamRetro and choose your sprint retrospective template.
Invite your team easily – no separate accounts needed
Send an email invite, a link or add to your Slack channel to get people started quickly. SSO options are also available.
Time to brainstorm
Each team member can now brainstorm individually under each topic. This avoids group think and allows everyone to have their say. They can indicate when they have finished, or you can set a timer so that you know when to move onto the next stage.
Group related ideas
Drag and drop  related ideas to combine them for easier voting. TeamRetro can also automatically suggest ideas that are similar, saving you and your team valuable time.
Vote independently to avoid anchoring
Each team member votes on what they would most like to discuss further. The results won't be displayed to everyone until you advance to Discuss.
Discuss the most important things first
You and your team discuss the top voted ideas and can capture deep dive comments.  Presentation mode allows you to walk your team through ideas one-by-one and keep the conversation focused.
Review and create actions
Easily facilitate discussion by bringing everyone onto the same page. Create action items, assign owners and due dates that will carry through for review at the next retrospective.
Share the results
Once you have finished your retro, you can share the results and actions with the team. Your retro will be stored so you can revisit them as needed.
Congratulations! You've just run a retro like a boss.
Want more? Read on.