What is The Good Gardener Retrospective?
Grow your garden of agile experiments and help foster and gain from new beginnings.
We have a number of shameless gardening fans here at TeamRetro – this interactive sprint retrospective idea is both for them and all of those other good (and not so good) gardeners out there!
Like projects, gardens come in all shapes and sizes – from single pot plants to sprawling estates – and gardens can be as varied as the style of the people who tend them.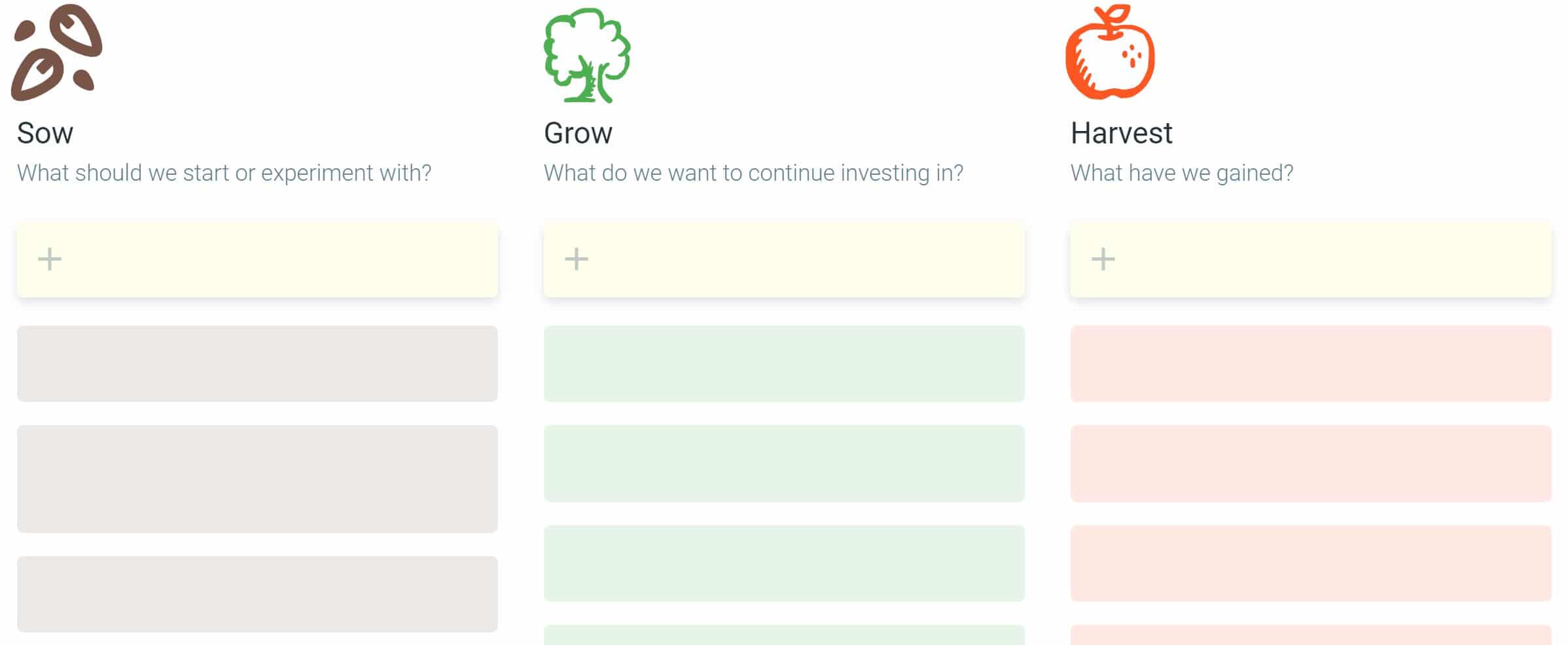 This gardening metaphor encapsulates the Agile methodology.
The team has to work with its own plot of land, decide on what the outcome is, and then decide what to plant. Balancing the quality of the seed (the idea) with the right soil (the working environment), through to dealing with stakeholders and harvesting, all in the pursuit of continuous improvement (the production of an award-winning marrow or dream of curating a flawless front lawn).
Additionally, gardeners may also adopt an empirical approach using data to make decisions and improve yield. The transparent nature of a garden of inspection (checking on those pests) and adaption (replacing snail ravaged magnolia seedlings with hardier petunias to deliver a spring display), aligns exceptionally well to Scrum's three pillars. It all points to the Good Gardener being a great Scrum sprint retrospective idea that allows the team to propose and decide what they could do going forward.
With all of that in mind, it's no wonder folk at TeamRetro love to garden!
Good Gardener Retrospective Format

Sow
What should we start or experiment with? What ideas have been sparked? What tweaks could we inject?
Grow
What do we want to continue investing in? What has worked well, and we want to see more? Where can we see value increasing?
Harvest

What have we gained? What can we showcase? What lessons have we learnt? What insight have we procured?
If you were a plant, what would you be?
What seeds have you sown recently?
What are the conditions you need to grow?
Retro Rehearsal
Invite your team to rehearse the retro referencing what they need to do to prepare for the festive season.
For example, what do you need to sow, grow, or harvest to get ready for the festive season?
Ideas and tips for your Good Gardener Retrospective
Retrospectives such as the Good Gardener are a great chance for you and your team to walk the Scrum talk.
Ask an Icebreaker question such as how would you describe yourself as a fruit, plant or vegetable? You may get some funny and interesting answers that helps your team learn a little more about each other's personalities.

Set the stage. The goal of this retrospective idea is to encourage people to be open and honest with their ideas and to propose actions and ideas to the team that can improve the overall garden. Remind people to be open, brave and non-judgemental.

Make brainstorming anonymous to allow people to feel safe when contributing their thoughts. People will feel more engaged when they feel like they can air what they need to.

Use the concepts of brain writing – give people "silent time" to write, read and respond to what is being presented. It might just be a minute that can make all the difference.

Why not give it a go and see if your team wants to add a new category or two? ('Compost" could encourage participants to list old ideas so they may be re-born as valuable inputs, while "Annuals" could be where quick wins are listed).

A thank you goes a long way. Give a shout out to the team at the end of the meeting.

Want to keep the vibe alive? Buy a new office plant or literally plant a seed and help remind people of what it takes to grow and idea.
How to run a Good Gardener Retrospective in TeamRetro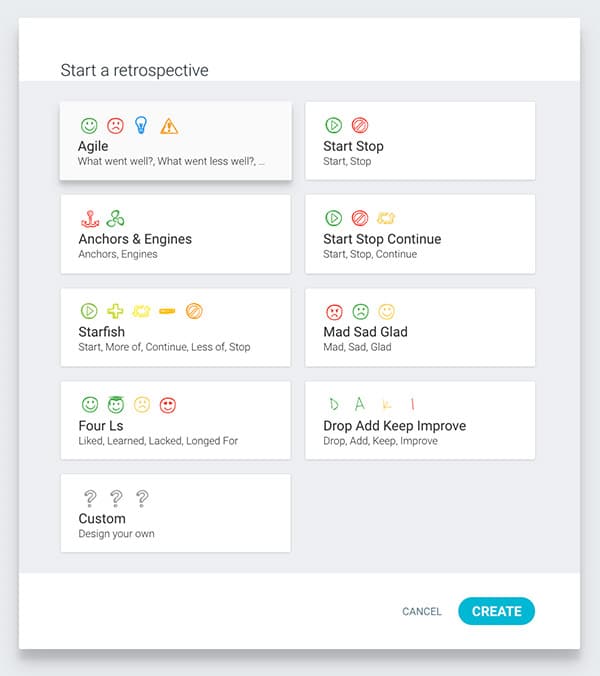 Start your retrospective in a click
Log into TeamRetro and choose your sprint retrospective template.
Invite your team easily – no separate accounts needed
Send an email invite, a link or add to your Slack channel to get people started quickly. SSO options are also available.
Time to brainstorm
Each team member can now brainstorm individually under each topic. This avoids group think and allows everyone to have their say. They can indicate when they have finished, or you can set a timer so that you know when to move onto the next stage.
Group related ideas
Drag and drop  related ideas to combine them for easier voting. TeamRetro can also automatically suggest ideas that are similar, saving you and your team valuable time.
Vote independently to avoid anchoring
Each team member votes on what they would most like to discuss further. The results won't be displayed to everyone until you advance to Discuss.
Discuss the most important things first
You and your team discuss the top voted ideas and can capture deep dive comments.  Presentation mode allows you to walk your team through ideas one-by-one and keep the conversation focused.
Review and create actions
Easily facilitate discussion by bringing everyone onto the same page. Create action items, assign owners and due dates that will carry through for review at the next retrospective.
Share the results
Once you have finished your retro, you can share the results and actions with the team. Your retro will be stored so you can revisit them as needed.
Congratulations! You've just run a retro like a boss.
Want more? Read on.