Oscar Academy retrospective
The Oscar Academy is an interactive sprint retrospective idea inspired by the exuberance and recognition of one of the world's best known awards night. Create a stage where people can learn from stories, are recognised for their contributions and celebrate their successes.
Like many of our retrospectives, Oscar Academy embraces a positive cheerfulness as a gentle reminder to team members to adopt a perspective of optimism when reflecting on the sprint (after all, even when we encounter failure, we can successfully learn from it).
This is one of many of our sprint retrospective ideas for remote teams that positions participants to head towards conversations that embrace and explore notions that foster continuous improvement.
Like the Awards ceremony itself, it encourages participants to shine!
Oscar Academy retrospective format

Best Performance
What can we shine a light on? What outcomes can we showcase? What happened that made us feel great?
Best Actions
What contributed strongly to our outcomes? What did the context of success look like? If it wasn't for…. it may never have happened!
Best Story
What stories (good and bad) can we learn from? How can we make sure our next sprint is a sequel and not a re-make?
Best Supporting Roles
What tools, people or resources supported us? What was their contribution? Who or what do we appreciate? How did this reinforce our team values?
Suggested Icebreaker questions for Oscar Academy retrospective
What movie describes the last sprint?
What award would you like to receive?
If your life was the winning movie, who would you thank?
Retro Rehearsal
Invite your team to rehearse the retro referencing an event they attended.
For example, if a fantastic party was a movie, who gave the best performance, what were the best actions, what was the best story or who provided the best support?
Ideas and tips for your Oscar Academy retrospectives
Ask each person in the team what movie or film they would use to describe the last sprint. Was it a mad, stressful run like Need for Speed, or a constant battle like the Lord of the Rings Trilogy? This helps give people a little insight into the mood of the room.

Welcome people and set the tone of the meeting and give them a safe space to share ideas. A great way to do this is to ask "Can we begin now?" and waiting for people to begin.

There's no reason you can't craft your own awards-based retro. Your team may want to rock a Grammys retro, prefer a Pulitzer, or perhaps wish to pick up a Plame d'Or. Heck – your team may wish to be considered for a Nobel.

Give people "silent time" to write, read and respond to what is being presented.

Use team voting to get consensus from the room. Each idea is essentially a nominee and you are looking for the winners from each category. Revealing the independent voting is a fun and easy way to make your retrospective interactive and engaging.

A thank you goes a long way. Give a shout out to the team at the end of the meeting.

In face to face meetings, doing things digitally allows you to collect ideas, vote and comment anonymously, and saves manual collation.
If running your meeting digitally, use a video conferencing tool to give that personal touch.

Rotate the role of facilitator. Changing the role can break the routine so perhaps have each person facilitate a different "category" just like they would rotate presenters.
How to run a Oscar Academy retrospective in TeamRetro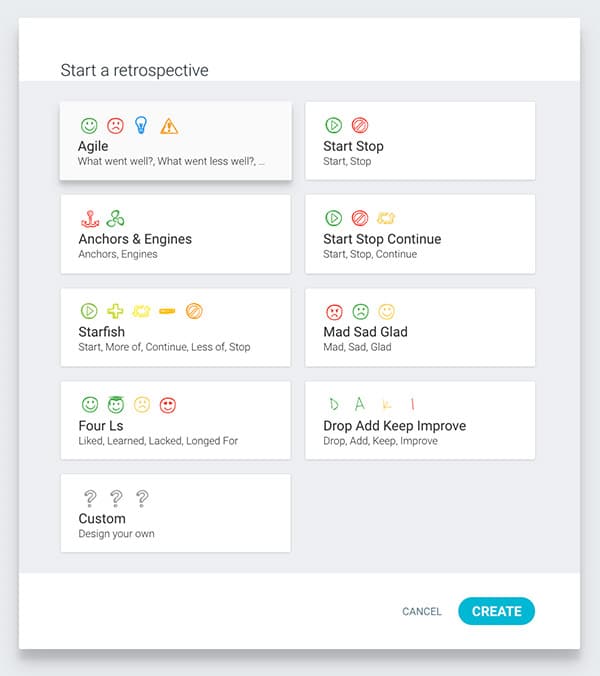 Start your retrospective in a click
Log into TeamRetro and choose your sprint retrospective template.
Invite your team easily – no separate accounts needed
Send an email invite, a link or add to your Slack channel to get people started quickly. SSO options are also available.
Time to brainstorm
Each team member can now brainstorm individually under each topic. This avoids group think and allows everyone to have their say. They can indicate when they have finished, or you can set a timer so that you know when to move onto the next stage.
Group related ideas
Drag and drop  related ideas to combine them for easier voting. TeamRetro can also automatically suggest ideas that are similar, saving you and your team valuable time.
Vote independently to avoid anchoring
Each team member votes on what they would most like to discuss further. The results won't be displayed to everyone until you advance to Discuss.
Discuss the most important things first
You and your team discuss the top voted ideas and can capture deep dive comments.  Presentation mode allows you to walk your team through ideas one-by-one and keep the conversation focused.
Review and create actions
Easily facilitate discussion by bringing everyone onto the same page. Create action items, assign owners and due dates that will carry through for review at the next retrospective.
Share the results
Once you have finished your retro, you can share the results and actions with the team. Your retro will be stored so you can revisit them as needed.
Congratulations! You've just run a retro like a boss.
Want more? Read on.