What is the Olympics 2020 Retrospective?
We are always in awe and inspired by our Olympians and Para-Olympians whose commitment, dedication and effort achieved elite status in the worlds most recognised sporting competition. The Olympics 2020 retrospectives draws on the key elements of this international event and brings them to your agile team. It identifies positive and negative aspects as well as being a prominent reminder of the Olympic spirit and how it can unite the team.

The Olympics 2020 Retrospective format
Medals – These are the achievements, key outcomes and "winning" moments during the last sprint that people experienced individually or as a team. Perhaps a target or goal was reached, there was a surprised victory or just a moment that created a high five moment.
Olympic Spirit – The purpose of the Olympic Spirit is to "build a peaceful and better world which requires mutual understanding with a spirit of friendship, solidarity, and fair play." It seeks to instil and develop values that promote tolerance and understanding as well as education and inspire everyone to achieve the best. Now, who wouldn't want that in their team? This gives a space for people to provide a shout out to team members who have demonstrated this spirit in their work and interaction in the last sprint.
Stumbles – These are areas where there may have been fails, falls and demonstrate human fallibility. While they may not be the most positive of aspects, it can be a time where support, learnings and systems are put in place to support individuals and the team.
Olympic Torch – The torch is a symbol of tradition, recognition and unison. To this end, this part of the retrospective asks the team to identify what lessons, ceremonies or other actions they want to take forward.
This style of retrospective can be used to celebrate a milestone, an end of an epic or a significant moment in your team's life cycle. Of course you can be creative by adding in other elements such as Ceremonies or Highlights.
Suggested Icebreaker questions for the Olympics 2020 Retrospective
If you were an Olympic sport, what would you be why?

Would you rather take part in a team based or individual sport ? Why?

What sport would you want to break the Olympic record in and why?
Retro Rehearsal
Invite your team to rehearse the retro referencing a recent or significant Olympic sports event.
Based on that sport event, ask them what were some winning moments, where was the olympic spirit missing or shown, where might have been a fail or a lesson learned, and what they might want to take forward with them.
Ideas and tips for your Olympics 2020 retrospectives
Ask each person in the team to think of a sporting event that they have competed in (not just at the Olympics) and or have watched and what were the aspects they most enjoyed about it.

Use the concepts of brain writing – give people "silent time" to write, read and respond to each topic. You can even open up your retrospective before your meeting to allow people to add ideas and concepts prior to the meeting.

Try to encourage ideas in each section. Even when you don't win the Gold Medal, there will still be elements of the journey that are positive and memorable. In reverse, even if there was nothing but victories, this may have been the result of challenges overcome.

Why re-watch one of the event highlights from your team's favourite sports together to build camaraderie?

If you have some award medals of your own, you could have teams nominate members for the most resilient, most valuable, most important or most improved player of the team.

A thank you can go along way in this retrospective format. It can take courage to put new ideas forward or challenge the status quo, so make sure to acknowledge everyone's ideas and contributions .
How to run a Olympics 2020 retrospective in TeamRetro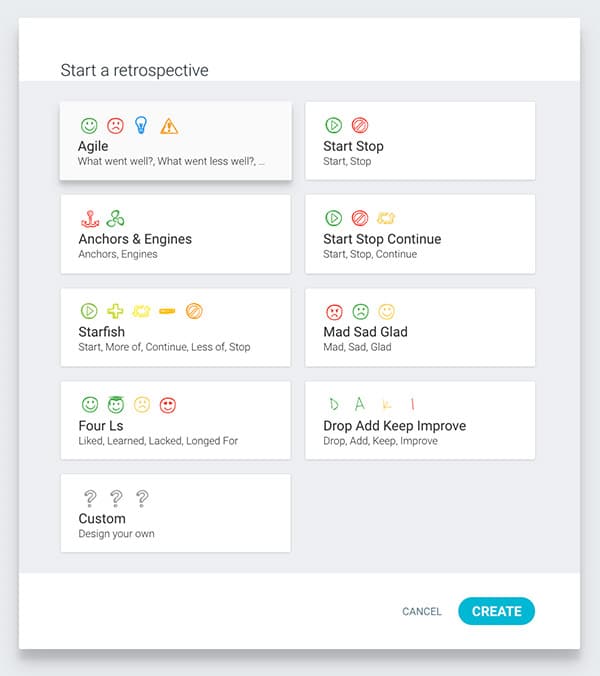 Start your retrospective in a click
Log into TeamRetro and choose your sprint retrospective template.
Invite your team easily – no separate accounts needed
Send an email invite, a link or add to your Slack channel to get people started quickly. SSO options are also available.
Time to brainstorm
Each team member can now brainstorm individually under each topic. This avoids group think and allows everyone to have their say. They can indicate when they have finished, or you can set a timer so that you know when to move onto the next stage.
Group related ideas
Drag and drop  related ideas to combine them for easier voting. TeamRetro can also automatically suggest ideas that are similar, saving you and your team valuable time.
Vote independently to avoid anchoring
Each team member votes on what they would most like to discuss further. The results won't be displayed to everyone until you advance to Discuss.
Discuss the most important things first
You and your team discuss the top voted ideas and can capture deep dive comments.  Presentation mode allows you to walk your team through ideas one-by-one and keep the conversation focused.
Review and create actions
Easily facilitate discussion by bringing everyone onto the same page. Create action items, assign owners and due dates that will carry through for review at the next retrospective.
Share the results
Once you have finished your retro, you can share the results and actions with the team. Your retro will be stored so you can revisit them as needed.
Congratulations! You've just run a retro like a boss.
Want more? Read on.