Welcome to the Insights feature of TeamRetro. Insights brings metadata from your meetings to the surface. This will help identify trends and gaps, give you a sense of team mood, health and sentiment, and understand the rate of continuous improvements through action tracking.
It does something that most other retrospective tools don't. It shows you everything from the cadence of team meetings and the general themes, through to team happiness and sentiment over time.
We really appreciate when our customers share their experiences, so we thought we would do the same. So rather than another blog article on how important agile retrospectives are, this post focuses on how we used the outcomes of our retros and health checks to help support our team.
We share Insights into our own team and how it has helped us to improve. We hope it does the same for you.
—
Hi everyone,
I hope all is traveling well. As promised, here's a little run down on our own teams based on the new Insights feature we released. It's always really informative to examine these things through our own lens as our customers do the same.
Insights into our meeting activity
Over the last year our 4 teams have run 27 retrospectives and 3 health checks, resulting in 102 action items and 29 team agreements. It's great to see a bit of regularity happening as we improve our agile practice and meeting cadence.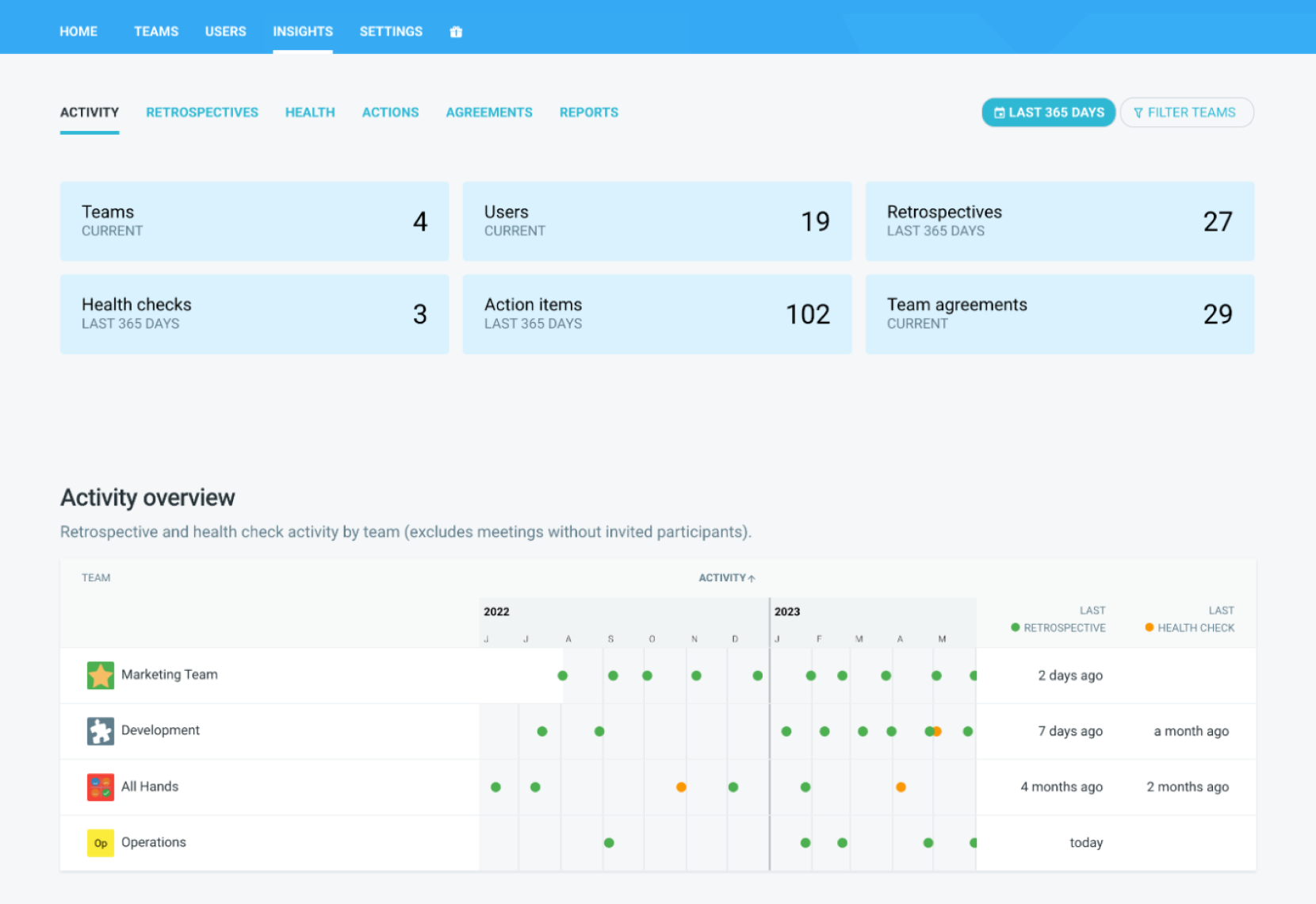 At each of our retros, we've had 13-47 ideas shared and anywhere from 0-6 actions that come out of those meetings, based on an 89% participation rate.
For those who have been attending, we see a growing healthy Return on Time Invested which continues to remain steady. Well done to the teams and Scrum Masters for keeping our meetings relevant and meaningful for those attending.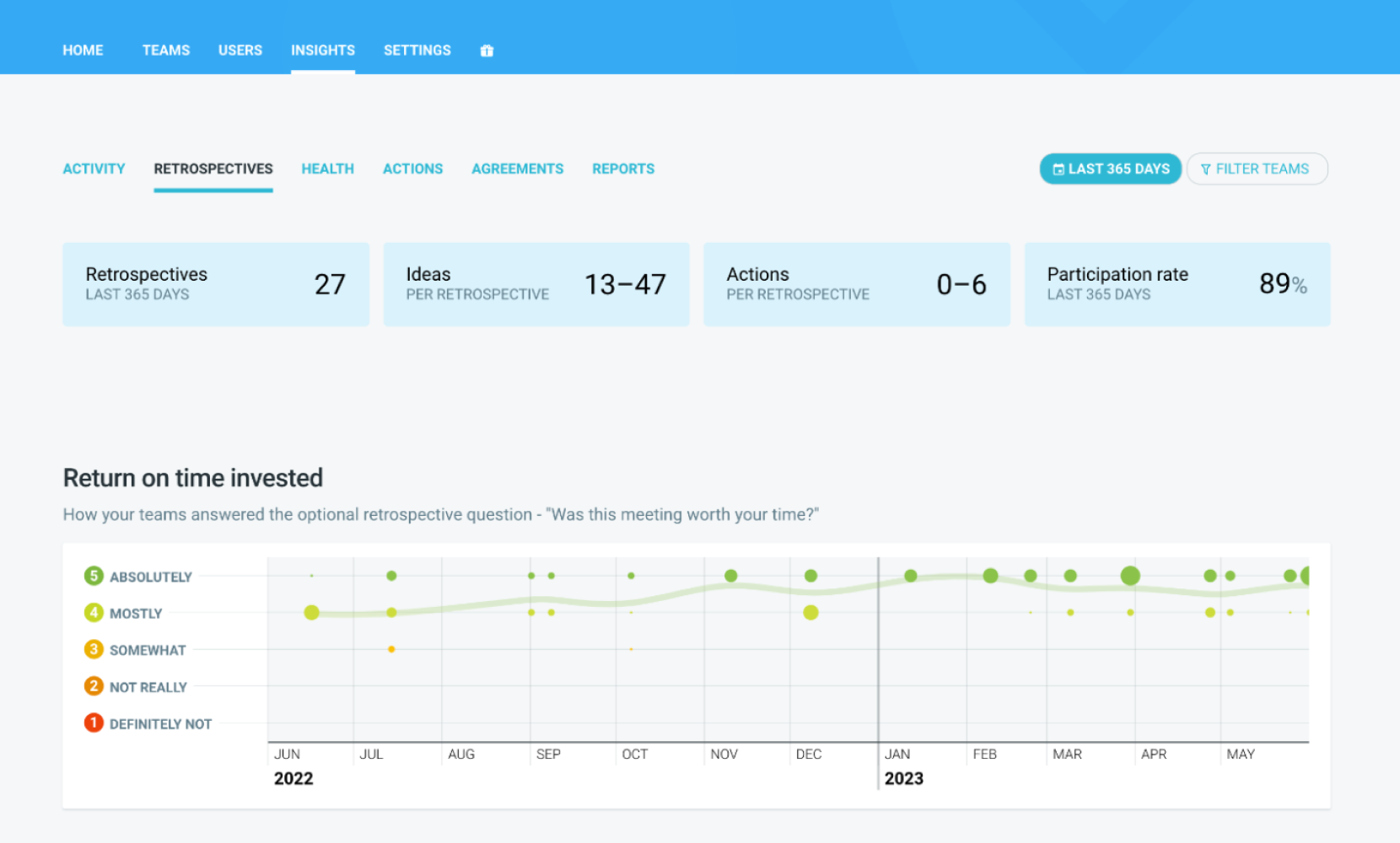 Generally, we run a retro once per month per team and a few times a year for everyone. Sometimes we bring them earlier before a weekend or to account for public holidays, and other times we have had to push them back. 1 team has really consistently met each month.
We tend to have a wide spread of agile retrospective formats from meeting to meeting which means lots of variety and different perspectives being gathered. Our most frequently used template is the standard agile retrospective format, as well as the 4L retrospective. Of course, we continue to support teams trying out different formats and styles that work for you, while we keep our all hands meeting format very consistent each time to make it easier to compare.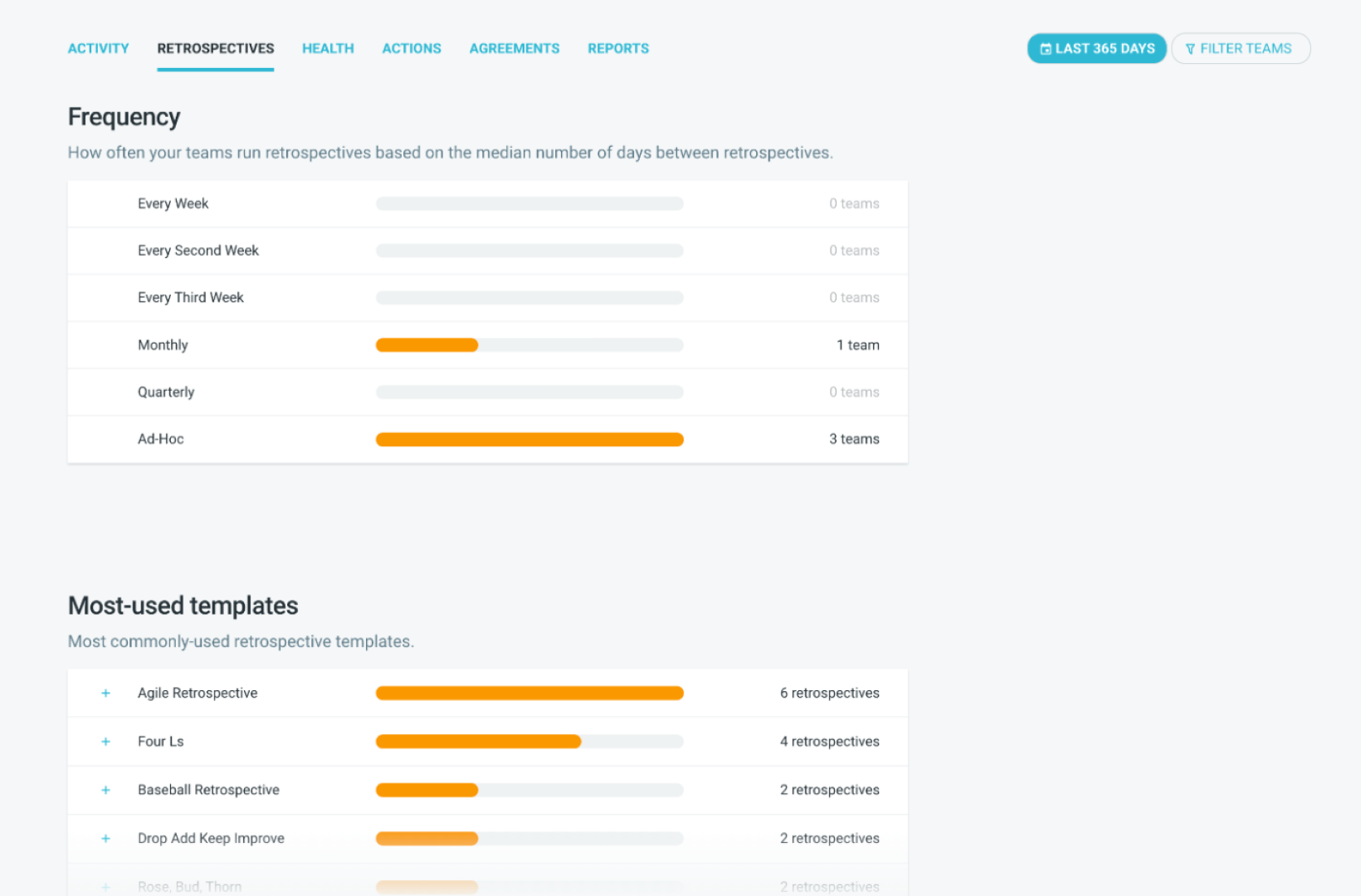 Based on the retrospectives, here is a word cloud of our most common themes across all our teams. Team, Working, project, Great, Thank, New, Feedback have been some positive sentiments over the last year. On the negative sentiment side, we are seeing things as Need, agreements and deadlines being some common ones which we have reflected on.
Having said that, team sentiments are generally well spread and a relatively balanced approach when reflecting on sprints, although we tend to come from things from a more positive perspective. As a point of note, each of our retrospective formats has questions which have a negative sentiment in nature i.e- what did not go well, or what should we improve, or things that slowed us down. These are still necessary as part of our process so having negative sentiment is not actually an issue.
Now to our team health.
Since we only run these 3 times a year for all of us, we seem to have a relatively good participation rate and overall our team health dimensions are looking very strong.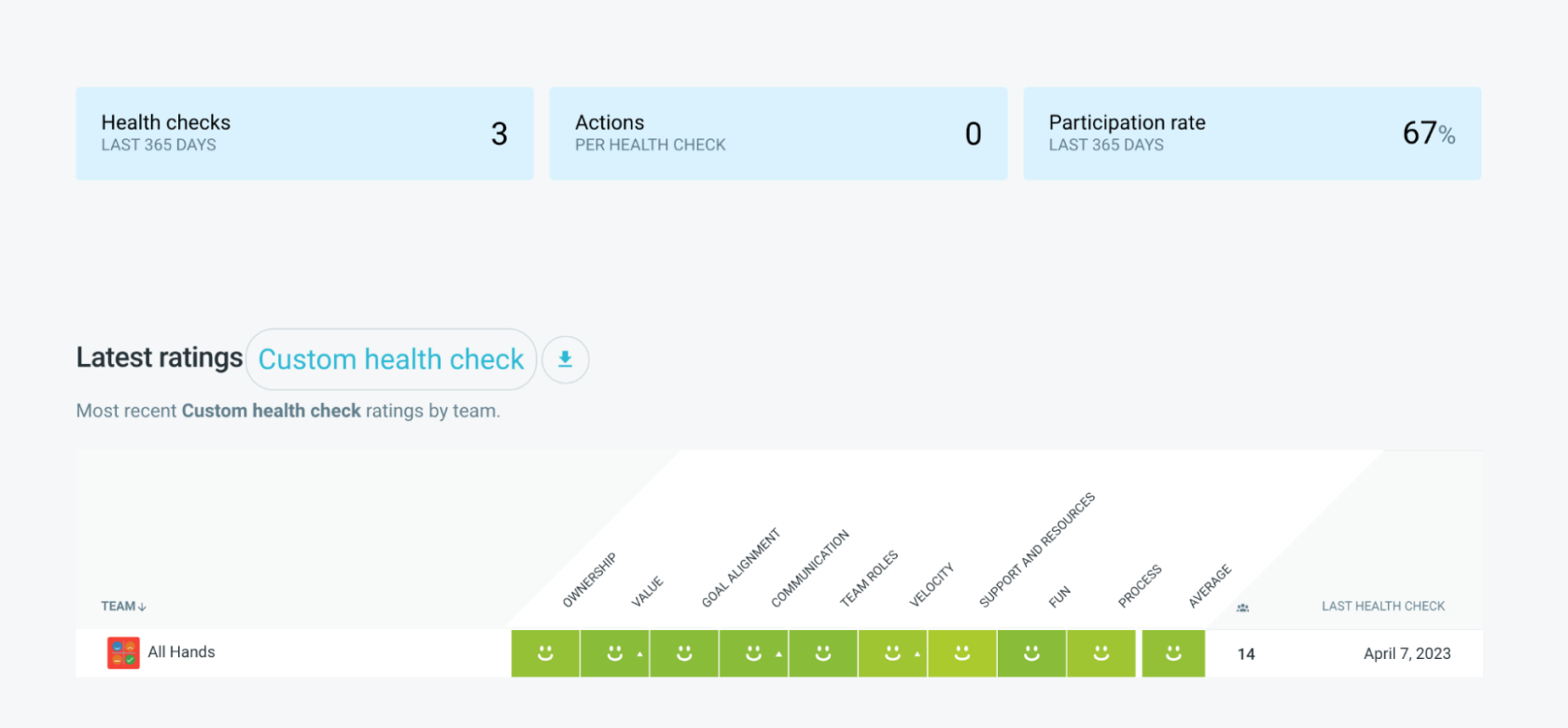 Looking at the individual health dimensions, it's really great to see that we have been addressing some issues of communication. It looks like breaking down into smaller teams and having some clear guidelines about how, when and how much we communicate has been a worthwhile investment.
I'm curious though. Does this mean that there are other areas that we should potentially be exploring (maybe a different type of health check)? Or should we simply talk about what we should do to keep these sorts of results positive going forward? More of those lunchtime competitions, hackathons or outcome based meetings perhaps?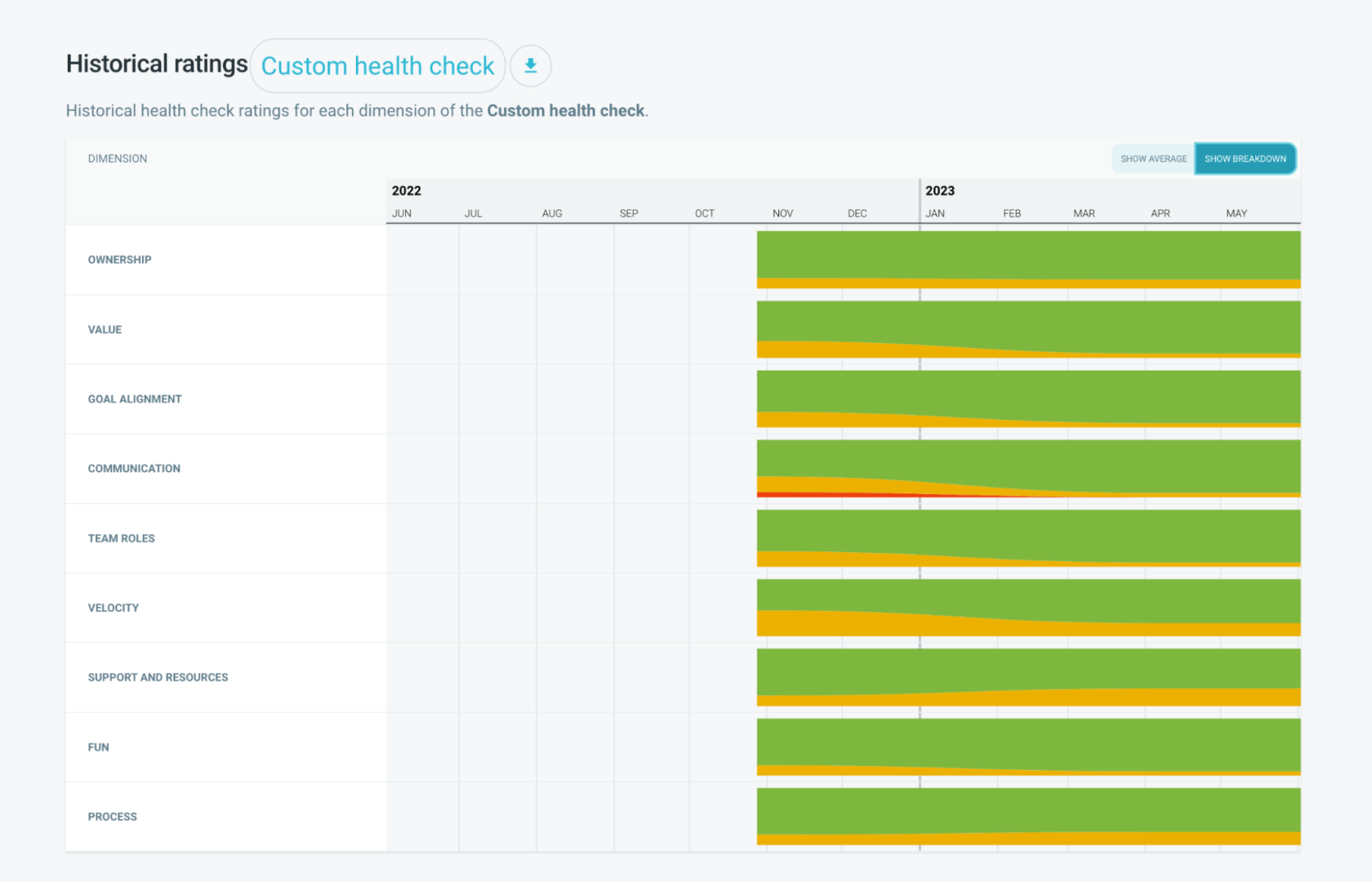 When it comes to actions, we've certainly been busy. Many of our actions from our September retrospective last year were big ticket and epic style actions which pushed our average days to completion to 77 days. But more recently, we are seeing a pretty good flow from actions created, through to actions published and completed. This means that our open action and action maturity is reasonably good.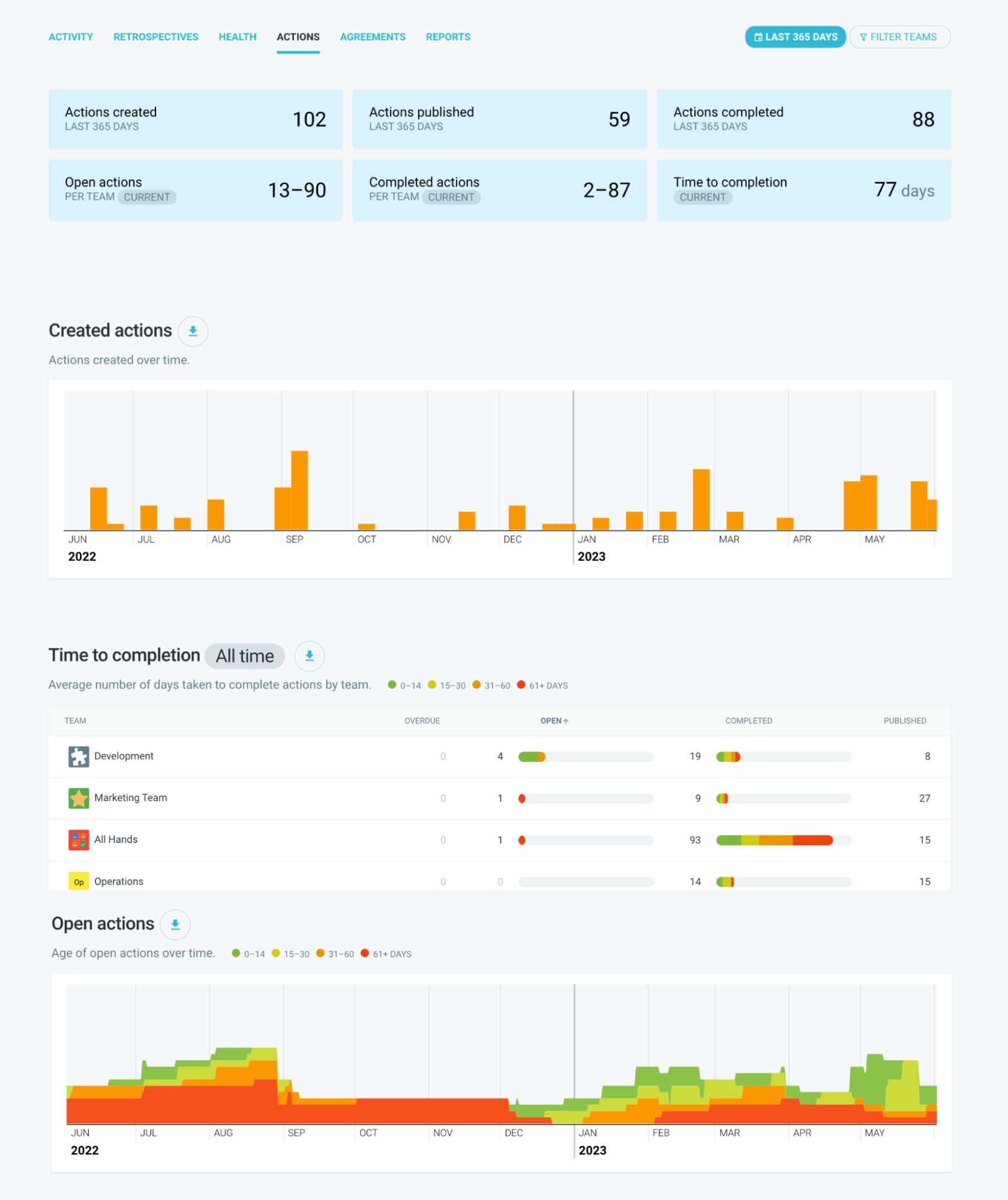 Finally, we have our team agreements. This is the "how we do what we do" part of the process.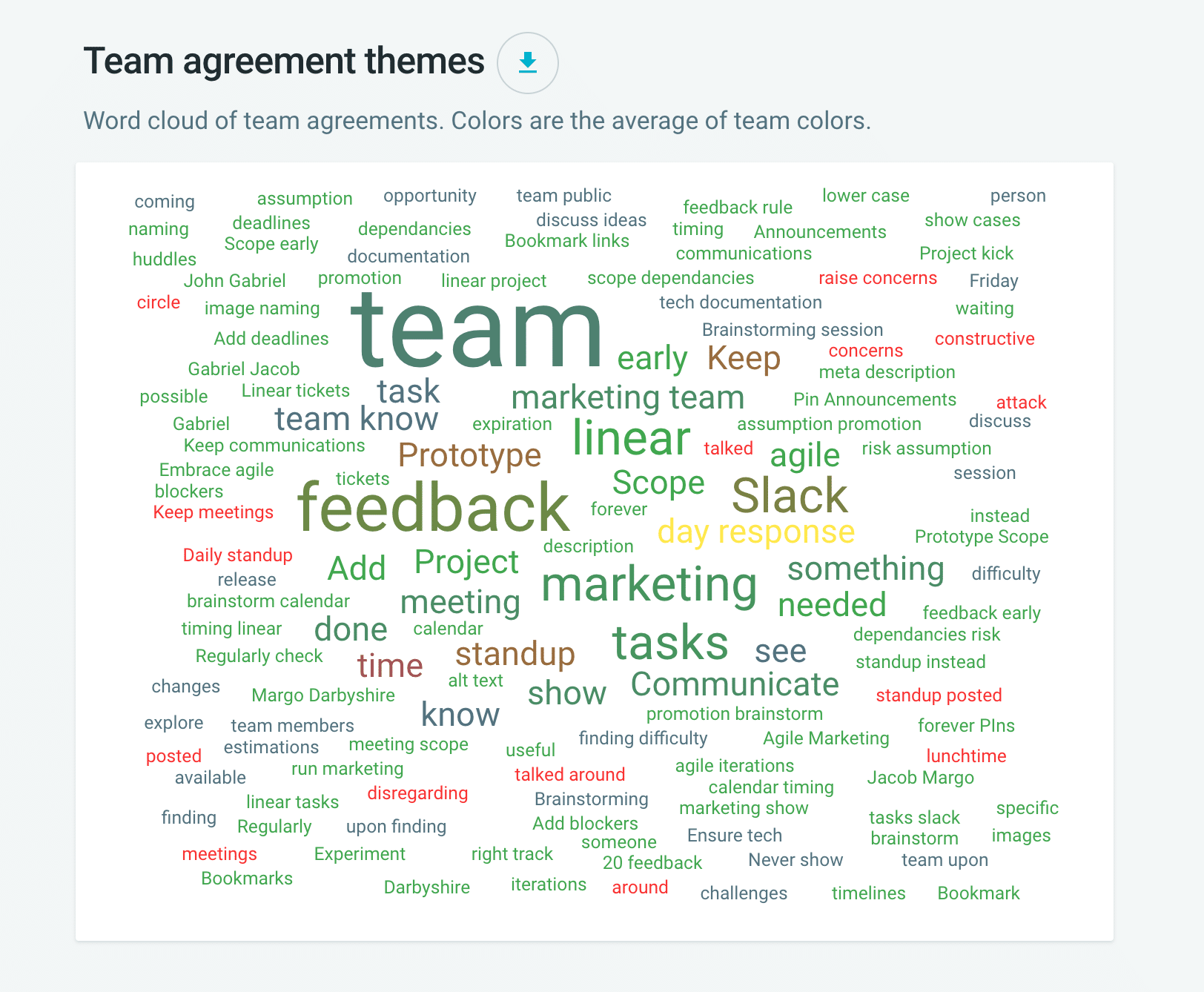 What was really interesting was how agreements were split up between teams. Using the filter, it looks like marketing focused on Feedback, use of Linear, managing project tasks and scope and becoming an agile marketing team.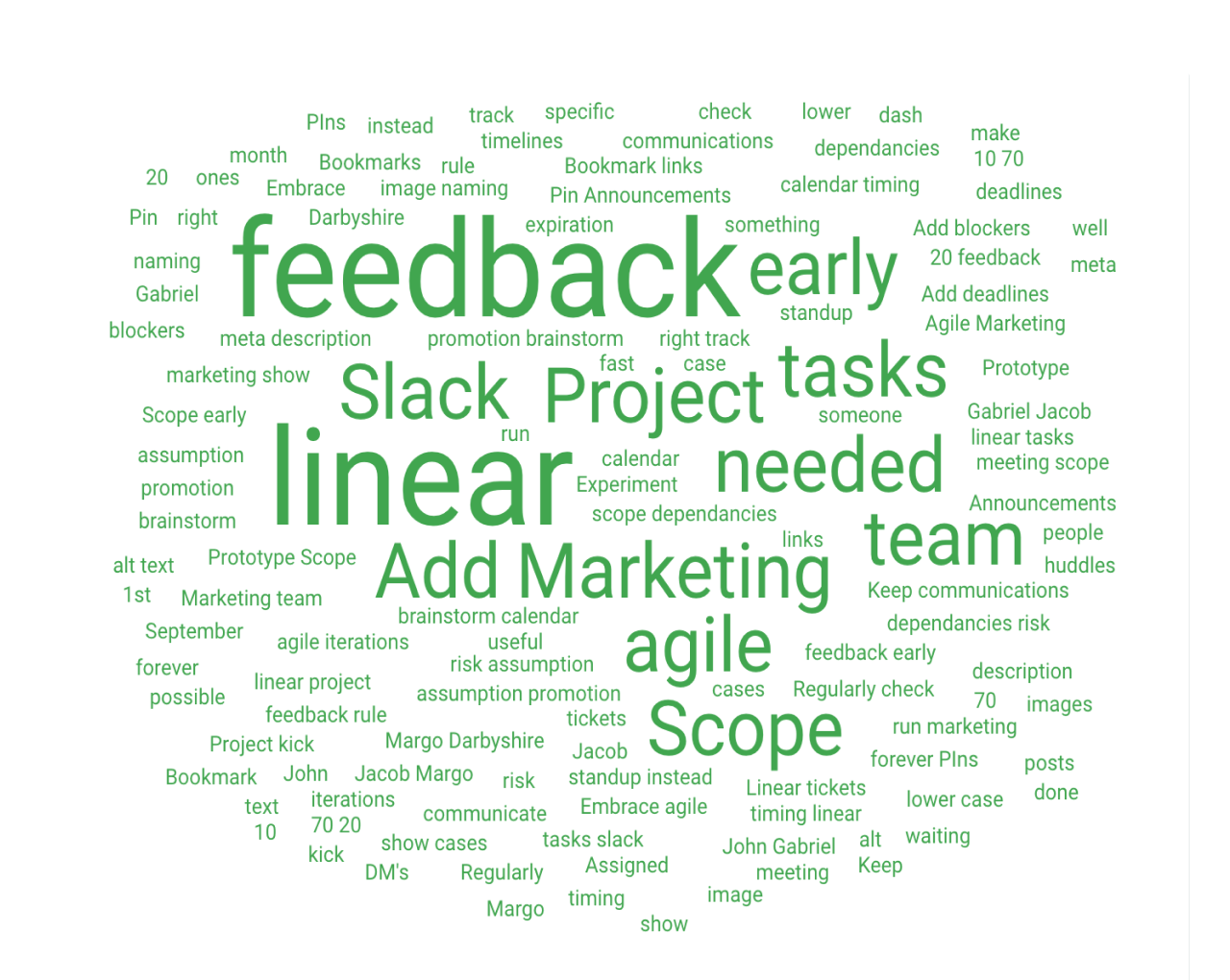 The Development team looked more like it was about knowing, sharing ideas, documentation and communicating ideas between people.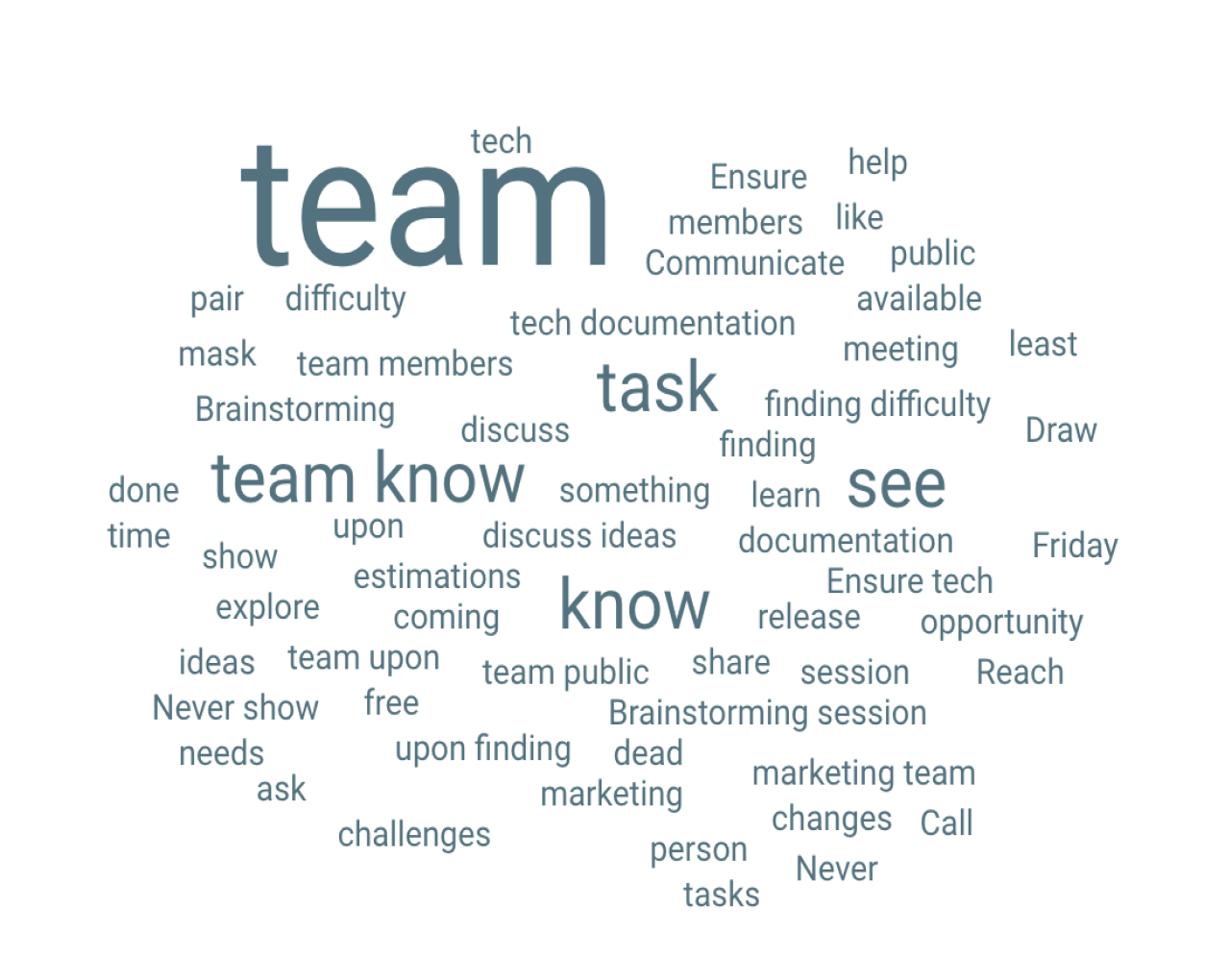 Our ops team only had 1 team agreement so there was insufficient data for the word cloud. However our all hands meeting agreements still hold true for us today.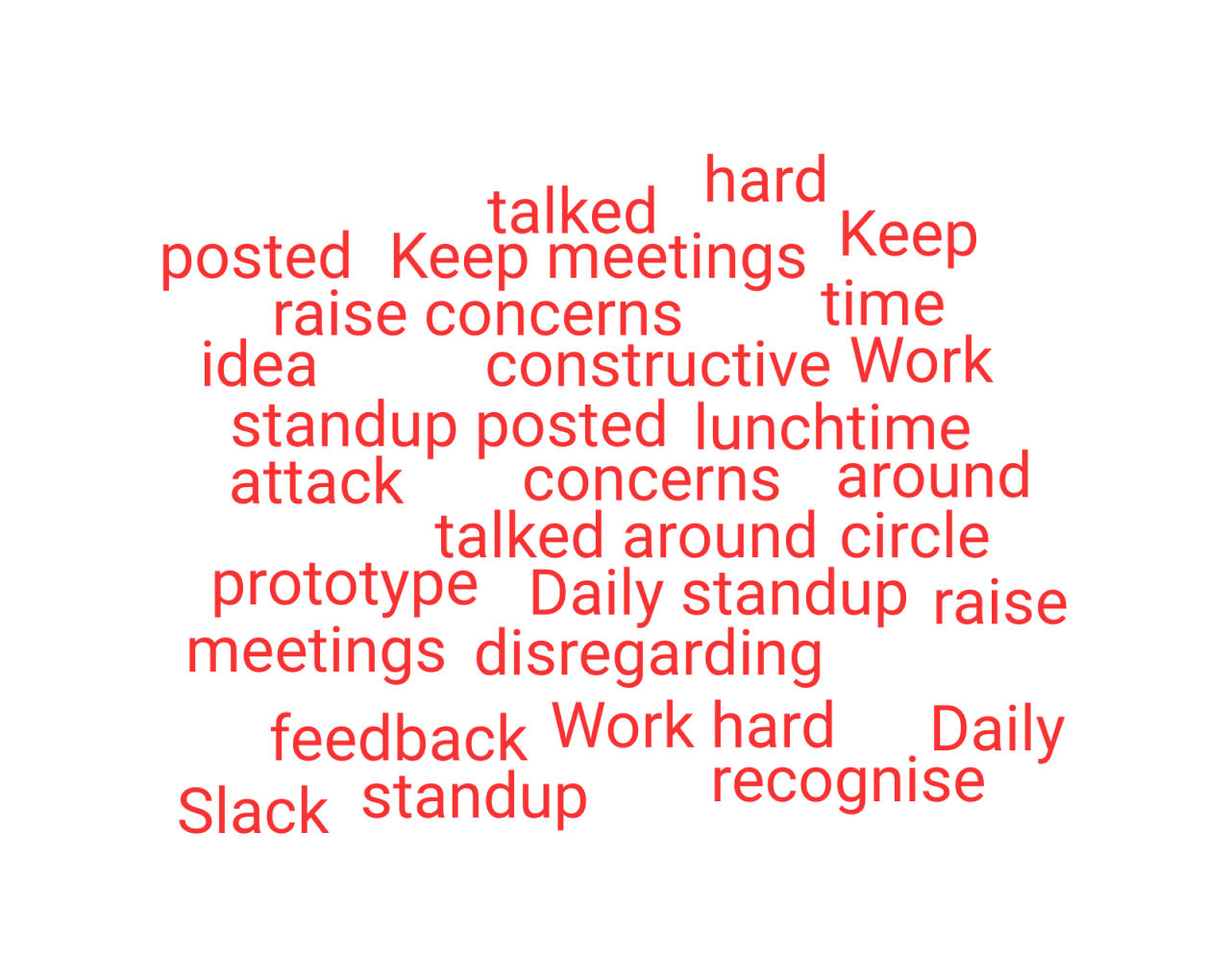 Some of the agreements across all the teams that we thought were worth highlighting are :
We raise concerns with each other.
Work hard, and have fun and recognise each other.
Work hard, and have fun and recognise each other.
If someone is waiting on something from you, communicate where it is at.
10%, 70%, 20% feedback rule
Any feedback is constructive, not an attack or disregarding an idea
If there is something you see that needs to be done, or something you'd like to do (or learn, or explore!) let the team know!
In closing, we wanted to acknowledge the great work you are all doing. These retrospectives are a great way to see those continuous improvement ideas having a place to be shared and brought to life!